Find the Perfect Plus Size Cocktail Dress
Discover the World of Plus Size Dresses
Hey there, fellow fashion lovers! Are you tired of feeling excluded from all the exciting fashion trends out there just because of your size? If you're a curvy woman like me, you know the struggle of finding the right outfit for a special occasion, particularly a chic cocktail dress. But fear not, my friends, in this blog post, we're going to introduce you to the amazing world of plus-size dresses and show you how to find the perfect cocktail dress that will make you feel confident and fabulous!
First things first, let's define what we mean by "plus size dresses." Generally, plus-size dresses are designed for women whose measurements fall outside the straight-size category, which usually encompasses sizes 0-12 or 14. Plus-size dresses come in various styles, lengths, and materials to cater to different body types and occasions, including fancy cocktail parties, weddings, graduations, and more.
Now, you might be wondering, what are the benefits of wearing plus-size cocktail dresses? Well, aside from the obvious reason of looking fantastic, a well-fitted cocktail dress can boost your confidence, make you feel sexy and feminine, and help you stand out from the crowd. Plus, it's a great way to express your personal style and show off your curves!
Tips for Scoring the Perfect Plus Size Cocktail Dress
Hey there, fellow curvy ladies! As someone who has spent many hours scouring stores for the perfect plus-size cocktail dress, I know just how daunting the task can feel. From finding a style that flatters your particular body type to choosing the right color and length, there are so many factors to consider. Luckily, over time I've developed a few tips and tricks to make the process a little less overwhelming. Here are a few pieces of advice to keep in mind next time you set out in search of that perfect frock.
Consider Your Body Type
The first step to finding a dress that flatters your curves is to think about your body type. Are you an apple shape, with a broader midsection and slimmer limbs? A pear shape, with wider hips and thighs than your upper body? Or perhaps an hourglass shape, with a curvy figure that's balanced throughout? Knowing your body type can help you choose a style that highlights your best features while minimizing any areas you're self-conscious about. For example, an A-line dress can work well on an apple shape by drawing attention to your legs and taking the focus off your midsection. Meanwhile, a wrap dress can flatter almost any body type by cinching in at the waist.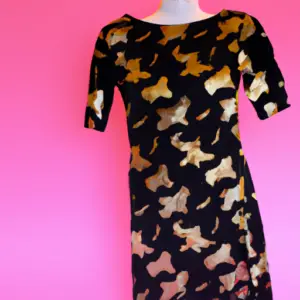 The next step is to consider the length and style of your dress. Depending on the occasion, you may want something more formal like a midi-length dress, or something breezier like a knee-length number. Additionally, the cut of your dress can make a big difference in how it fits: a sheath dress will hug your curves, while an A-line dress will flare out. If you're worried about your arms, you may want to opt for a dress with sleeves or a jacket that complements your look.
Pay Attention to Color & Pattern
Another factor to consider when selecting your dress is color and pattern. While you should ultimately choose what speaks to you and makes you feel fantastic, there are a few guidelines to follow. For example, darker colors tend to be more slimming, while bold patterns can make a statement. If you're feeling particularly daring, you might choose a dress in a bright color that pops against your skin tone.
Consider Accessories
Once you've found your dream dress, it's time to think about how to accessorize it. Depending on the occasion, you may want to add some heels, earrings, and a clutch. However, you should also look for pieces that complement your dress. For example, if you've opted for a patterned dress, you may want to keep your accessories simple to avoid overwhelming your outfit.
With these tips in mind, you're ready to start your search for the perfect cocktail dress. Remember to trust your gut and have fun – after all, fashion is all about expressing yourself and feeling confident in your own skin!
3. Popular Plus Size Cocktail Dress Styles
Okay, ladies, let's talk about the different styles of plus size cocktail dresses that are available. There are so many options out there, so it's important to know what works best for your body type and personal style.
a. A-Line Dress
The A-line dress is a classic style that flares out from the waist, creating an "A" shape. This dress is great for creating an hourglass shape and accentuating your curves. It's also very versatile and can be worn for many different occasions. If you're looking for something timeless and elegant, the A-line dress is a great choice.
b. Sheath Dress
The sheath dress is a sleek and form-fitting style that hugs your curves in all the right places. This is a great option if you want to show off your figure and feel confident and sexy. The sheath dress is perfect for cocktail parties and other dressy events where you want to make a statement.
c. Wrap Dress
A wrap dress is a classic style that is always in fashion. This dress is particularly flattering for curvy women, as it accentuates your waist and creates a beautiful silhouette. The wrap dress is also great for creating a slimming effect, making it a perfect option for any body type.
d. Off-the-Shoulder Dress
The off-the-shoulder dress is a trendy style that is perfect for summertime events. This style shows off your shoulders and neckline, creating a beautiful and feminine look. It's also very figure-flattering, as it accentuates your best features while still providing coverage in all the right places.
Remember, these are just a few of the many different styles of plus size cocktail dresses that are available. When shopping for dresses, keep in mind your body type and personal style, as well as the occasion you're dressing for. And most importantly, don't be afraid to try something new and step out of your comfort zone!
Where the heck can I find a fabulous plus size cocktail dress?
Girl, I totally get it. It can be a real struggle to find the perfect plus size cocktail dress. But fear not! I have some insider tips on where to look.
Department Stores
Don't underestimate the power of the department store. My go-tos are Macy's and Nordstrom. They both have an extensive selection of formal dresses, including plus size options. You can even filter your search by size online. Plus, they often have sales and promotions that can save you some serious cash.
Boutiques
If you want something a little more unique, check out local boutiques in your area. They may have a smaller selection, but you'll likely find some gorgeous dresses that you won't see anywhere else. Plus, you'll be supporting a small business.
Online Retailers
There are tons of online retailers that specialize in plus size clothing, and formalwear is no exception. I personally love Torrid and ASOS. Both have a huge selection of dresses in a variety of styles and sizes. Make sure to read reviews and sizing charts before you buy.
For more tips on finding affordable formalwear, check out this helpful post from Lovely Life of Leah.
Wrapping It Up: Finding the Perfect Plus Size Cocktail Dress
Well, that's a wrap! Hopefully, my tips have helped you in your quest to find the perfect plus size cocktail dress. Remember to always consider your body type, length and style, color and pattern, as well as accessory options.
Now that you have these things in mind, you can confidently venture out and start your search. Don't worry, with so many options available, you're sure to find something that suits your preferences.
As for popular styles, don't forget about the versatile A-line dress, the flattering sheath dress, the classic wrap dress, and the trendy off-the-shoulder dress. Each of these styles serve different functions, so be sure to choose wisely based on the occasion and your personal taste.
You might want to check out department stores or boutiques near you. For a wider range of choices, you can also browse through online retailers specializing in curvy fashion.
That's all for now! Hope you find the perfect plus size cocktail dress that makes you feel comfortable, confident, and stylish. Happy shopping!