Affordable Formal Wear for Special Occasions
Ready to Save Money on Formal Wear?
Hey, guys! Are you looking for affordable formal wear without sacrificing style? Well, you're in luck because I've got some great tips for you!
First things first – let's define what "formal wear" means. Formal wear typically refers to clothing worn for special events such as weddings, proms, or black-tie events. This can include suits, tuxedos, dresses, and gowns.
In this blog post, I'll be discussing the factors to consider when shopping for affordable formal wear, the best places to shop, and some tips for choosing the perfect outfit for your next event.
Factors to Consider When Shopping for Affordable Formal Wear
Hey there! Now that we've established where to shop for affordable formal wear, let's dive into some important factors to consider when making your final purchase.
First and foremost, price is always a significant factor to consider. You don't want to break the bank on a dress or tuxedo you'll only wear once or twice. Look for options that are within your budget, but don't sacrifice quality for price.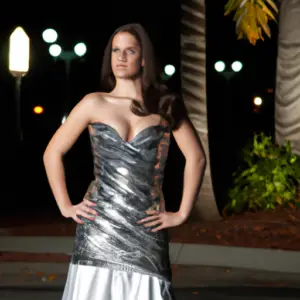 Speaking of quality, that's another crucial factor to keep in mind. While you may be shopping on a budget, you want to make sure the dress or tuxedo you choose is well-made. Check the fabric and seams to ensure durability and longevity. After all, investing in quality formal wear will save you money in the long run.
Comfort is also something to consider, especially if you'll be wearing your formal wear for an extended period. Choose fabrics that won't irritate your skin or cause discomfort, and make sure the fit is appropriate for your body type.
Overall, keep these factors in mind when shopping for affordable formal wear to ensure you're getting the best value for your money.
Where to Score Affordable Formal Wear
Alright, we've covered the factors to consider when shopping for affordable formal wear. It's time to move on to the fun part – where to actually shop for it.
High-end department stores
Yes, you read that right. Contrary to popular belief, high-end department stores like Nordstrom and Bloomingdale's often have amazing deals and sales on formal wear. Don't be afraid to browse their websites or take a trip to the store to check out their clearance sections. You might be surprised at what you can find.
Online retailers
Online shopping can be a real game-changer when it comes to finding affordable formal wear. Websites like ASOS, Rent The Runway, and Lulus offer a wide variety of styles and sizes at reasonable prices. The best part? You can shop from the comfort of your own home and have your purchases delivered right to your doorstep. Just make sure to read the reviews before making a purchase to ensure you're getting what you pay for.
Discount stores
If you're on a tight budget, discount stores like Marshalls, T.J. Maxx, and Ross Dress for Less should be at the top of your list. These stores typically offer name brand formal wear at discounted prices. However, be prepared to do some digging as the inventory can be hit or miss.
Overall, finding affordable formal wear requires a bit of patience and persistence. Don't be afraid to explore unconventional shopping options and keep an open mind when it comes to styles and colors. Who knows, you might just find the perfect outfit for your next formal event without breaking the bank.
Tips for Choosing Affordable Formal Wear
Now that you've got a general idea about shopping for affordable formal wear, let's dive in deeper and talk about some tips to help you make the best choices.
Firstly, when trying on different styles and colors, don't be afraid to step out of your comfort zone. Sometimes, the dress that you think you would never wear ends up being the perfect choice. Experiment and find something that makes you feel confident and comfortable.
Secondly, keep an eye out for sales and discounts. You never know when a high-end store might have a clearance or holiday sale. Online shopping is a great way to find deals, too. Look on discount websites like Groupon or RetailMeNot for additional coupons and promo codes.
Lastly, ask around for advice. Your friends and family may have tips or recommendations for stores that have affordable formal wear. Don't be afraid to ask a sales associate for help, too. They might be able to help you find the perfect dress that's within your budget.
Remember, shopping for formal wear on a budget doesn't mean sacrificing quality or style. With these tips in mind, you can dress to impress without breaking the bank.
Wrap it Up: My Final Thoughts on Finding Affordable Formal Wear
And that's a wrap on my blog post! So to recap, formal wear doesn't have to break the bank, but it can feel overwhelming when you're not sure where to begin. Luckily, there are a few things you can keep in mind when shopping for affordable formal wear.
First, don't forget to consider the price, quality, and comfort of what you're buying. Additionally, you have a variety of options when it comes to where to shop, including high-end department stores, online retailers, and discount stores. And when it comes time to actually choose the pieces you're going to buy, don't be afraid to try on different styles and colors, look for sales and discounts, and use coupons.
Overall, finding affordable formal wear is possible, but it might take a bit of hunting and creativity. Whether you're shopping for a graduation, job interview, or wedding, don't let the price tag deter you from finding the perfect outfit!
Thanks for tuning in, and happy shopping!