Finding Affordable Tailoring Services – Tips and Tricks
Tailoring Services – Making the Right Choice
Let's face it, when you want to look your best, tailoring is the way to go. Whether you're in the market for a custom-made shirt or an entire new wardrobe, tailoring services can take your style to a whole new level. But with so many options out there, how do you know which one to choose? With my tips, you'll be able to pick the perfect tailor for your needs and never look back!
First off, do some research and check out what's available in your area. A quick online search should give you a good idea of who's offering custom clothing, but don't forget to ask around too. Word of mouth from friends and family is often the best source for finding a quality tailor.
Once you have a few contenders, compare their prices and services. Don't just go for the cheapest option, either – always make sure to get value for money. Ask questions about turnaround times and any potential discounts they may offer as well. The more information you can gather, the better.
Another important step is checking reviews and references before making your decision. Have a look online, read up on customer experiences, and if possible, ask for personal references. It will take a bit of time, but it's worth it in order to find someone reliable.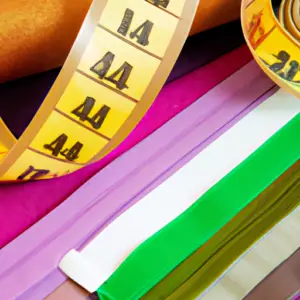 Finally, go with your gut. You know what you need and what you're comfortable with, so pick the tailor that best fits those requirements. As long as you've done your homework, you should be confident in your choice.
At the end of the day, choosing the right tailor for your needs involves doing some careful research. With a little effort, you can get quality tailoring services and still save some cash in the process. So don't be afraid to shop around until you find a great fit for you –– you won't regret it!
Researching Tailors in Your Area
If you're in the market for some tailored clothing, finding the perfect tailor can be tough! So, the first step is doing your research.
To begin, I'd recommend tapping into the vast wealth of information available online. Those search engine algorithms have come a long way, so if you're looking for tailors in your area, chances are they've got you covered.
Another great source of info is your friends and family. Chances are at least one of them has dealt with a tailor in the past. Ask them who they'd recommend. Word of mouth goes a long way when it comes to getting quality services.
Consider All Available Options
When it comes to choosing a tailor, it's important to take the time to weigh your options. Comparison shopping will go a long way in helping you find the right fit for your budget. Don't rule out the more expensive tailors though; they may offer services or features that cheaper tailors don't. So, really do your due diligence.
It also pays to look around at different places, not just one tailoring shop. Scope out the competition, price compare between tailors, and get a feel for who has the most attractive offers. Another helpful hint: Check if your favorite store has its own custom clothing offerings.
On top of all this, don't be afraid to ask questions. Fire away and figure out what kind of deals might be available. Some establishments have special discounts or promotional offers from time to time. And asking about turnaround times is always a smart move too.It's a good idea to get a feel for how your tailor works.
Ask Questions
As a savvy shopper, it's important to ask your potential tailor all the right questions before handing over your cash. Don't be shy! Be sure to inquire about the turnaround time and if they offer any discounts or special offers. All good tailors won't mind answering your queries.
It's also wise to seek out answers on the fabric quality, type of stitching and pattern-making used by the tailor. After all, you don't want to end up with a suit that fits like an ill-fitting sack—you gotta make sure the fit is perfect!
It's always a great idea to ask for customer references who have had experience with the tailor. This will help you get a better idea of the quality of service you can expect.
Check Reviews and References
Don't just take a tailor's word for it. Make sure to do your due diligence and check out reviews and references before you make a commitment. Start by reading online reviews or asking around to see if any of your friends, family or colleagues have ever used the services of a particular tailor.
Reading reviews can be incredibly useful in uncovering details that you may not think to ask about; maybe the tailoring turnaround time isn't so speedy after all or maybe they don't offer discounts. The best reviews also include recommendations, which can help you further narrow down your decision.
If past customers have had positive experiences with the tailor, ask them if they can put you in contact with them. Speaking to others who have used their services can help you decide if this is really the right tailor for you.
Making a Decision
Choosing the right tailor for your needs isn't always easy. I've been there, pouring over reviews and comparisons, trying to make the best decision. Trust me when I say it's important to take your time and ask questions — after all, you're gonna be looking great in those clothes so you want to make sure they were made with love an' care!
One of the most important things is to compare prices upfront between different tailors. Don't just settle for the first one you find — do your research and shop around. You might even be able to find some special discounts or offers that'll help save you some dough.
It's also a must to read online reviews from other customers. That way, you can get an idea of what their experiences were like and if the tailor is worth your money. Ask about turnaround time too — you don't want to be waiting around forever for your new threads.
Finally, you can always check references. Someone you know may have used that particular tailor before, so it's always worth seeing what others have to say. After all this groundwork, you should be ready to select the tailor that best fits your needs.
FAQ on Tailoring
Why does tailor cost so much?
I get why tailor costs can add up quickly – the fabric, the labor, the time for measuring and fittings, it all adds up. But finding an affordable tailor doesn't have to be impossible – you just have to know where to look.
For starters, look online for reviews of local tailors. Does the tailor have a good reputation? Do other customers recommend them? Are the reviews recent? These are all important factors to consider.
Next, be sure to email or call the tailor to ask questions. Don't be afraid to ask what the cost will be and make sure that you understand everything fully.
Also, try to find a tailor who works with both fabric and tailoring services, so you can get a better deal. This way, you won't need separate services to get the job done.
Finally, don't be afraid to negotiate. Prices are often negotiable, and if you can prove the quality of your material and the value of the job, you can often get the tailor to lower the cost.
Finding an affordable tailor isn't always easy, but it doesn't have to be impossible either. With a little bit of research and savvy negotiation, you can get the job done without breaking the bank.
What is the difference between a tailor and a seamstress?
When it comes to finding affordable tailoring services, one of the most important things to understand is the difference between a tailor and a seamstress.
A tailor is someone who specializes in creating custom clothing and making alterations to existing garments. They are highly skilled craftsmen and can generally be more expensive than a seamstress, who focuses on repairs and alterations to existing clothing. If you're looking for a custom suit or dress, you should look for a tailor. But if all you need is minor alterations to an existing piece of clothing, then a seamstress will be your best bet.
It can be difficult to find an affordable tailor, but there are a few things you can do. Start by doing a bit of research to find out who the best tailors in your area are. Look for reviews and check out their prices. You might also try asking friends and family for recommendations. Once you've found a few tailors, show them the item you need altered and ask for an estimate. It never hurts to shop around—if one tailor seems too expensive, try another.
Finally, don't be afraid to negotiate. Tailors tend to have some wiggle room in their pricing, and most would be open to discussing a better rate. It can't hurt to ask.
What are the three types of tailoring?
When looking for affordable tailoring services, there are three types of tailoring you should keep in mind: custom-made, machine-made, and ready-to-wear. Custom-made tailoring is the most expensive option, as the tailor will measure and construct the items from scratch. If you're looking for a more budget-friendly option, machine-made tailoring is the way to go. This type of tailoring utilizes a set of specific machines to cut and assemble the garment or item. Lastly, there's ready-to-wear clothing, which is the most affordable choice. Ready-to-wear clothing is exactly what it sounds like: clothing that has already been made, so you don't have to worry about measurements.
No matter what type of tailoring you choose, there are a few ways to make sure you're getting the best deal. Ask around for recommendations from friends and family; they may know of a local tailor who can offer a good price. You can also do some research online, as there are plenty of tailoring services that offer competitive rates. Finally, don't be afraid to negotiate! Many tailors will be willing to lower their prices to keep your business. So don't be shy—you never know what kind of deal you'll get.
how to find affordable tailoring services
Trying to find affordable tailoring services can be a bit daunting. But with a little know-how and some elbow grease, you can be well on your way to finding the perfect tailor for your needs. First things first, word of mouth is one of the most effective ways to find affordable tailoring services in your area. Ask around to friends and family and see if they know anyone who might be able to offer an affordable service. You can also do some research online and read reviews of local tailors to get an idea of who is offering a good and affordable service in your area.
Another great tip is to take advantage of sales or coupons that many tailors offer. Many offer discounts on certain services, so it pays to keep an eye out for these deals. You can also try looking for a 'wardrobe consultant' who will work with you to find the best services for a reasonable price.
Finally, if all else fails, you can always try bargaining (just don't be too pushy!) with the tailor. Often, they will be willing to offer a discount or negotiate on a price if you are willing to take a little extra time and effort to find a tailor that meets your needs.