Men's Formal Attire A Guide for Every Occasion
Gearing Up for Formal Events: A Cool and Fuss-Free Guide
Hey there, fellas! Are you about to attend a formal event but don't have a clue about what to wear? Fret not! I'll walk you through the ins and outs of men's formal attire in this guide.
Formal clothing refers to dressier garments that are appropriate for professional, social, or ceremonial occasions. It's essential to know the basics of formalwear to ensure that you look confident, sharp, and put-together.
So, let's get started by defining what formal attire is and what types of formalwear are available.
Types of Formalwear: From White Tie to Semi-Formal
When it comes to dressing formally, there are different types of attire that suit different occasions. Each dress code has its own unique features and requirements, which can sometimes be confusing for men. However, knowing the differences between the types of formalwear can help you stand out in any event, while also feeling comfortable and confident in your outfit.
White Tie is the most formal dress code and is usually reserved for exclusive events such as royal dinners or awards ceremonies. This code calls for a black tailcoat, white wing-collared shirt, white bow tie, black trousers, and black patent leather shoes.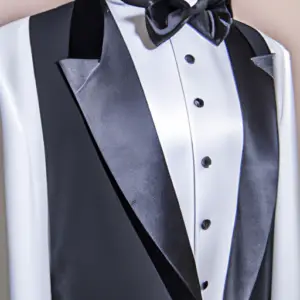 Black Tie is a popular dress code for weddings, galas, and other formal events. This dress code usually calls for a black tuxedo, black bow tie, white dress shirt, and black patent leather shoes.
Morning Dress is a semi-formal dress code reserved for daytime events like weddings or races. This type of attire includes a black tailcoat with a grey waistcoat and striped trousers, white shirt and collar, black patent leather shoes, and a top hat.
Semi-Formal is a dress code that is often referred to as dressy casual and is perfect for events like proms, dinners, and business parties. This type of attire for men includes a dark suit, dress shirt, dress shoes, and a tie or bow tie.
Understanding the different types of formalwear can help you choose the right outfit for the occasion and make a lasting impression on the people around you.
Essential Guide to Men's Formal Attire: Basics
Okay, let's get down to the nitty-gritty of formal wear for men. First things first, let's talk about suits. Always opt for a well-tailored suit that fits you properly. When in doubt, stick to classic colors like black, navy, or gray. Avoid bold colors or patterns that might be distracting.
Next up, shirts. A classic white shirt is always a safe bet, but you can also experiment with light blue or gray. Just make sure to choose a shirt that complements your suit and tie. Speaking of ties, keep it simple with a solid-colored tie. Avoid novelty ties or ones with loud patterns – you want to look cool and collected, not like a clown.
When it comes to shoes, invest in a quality pair of oxfords or dress shoes. Make sure they're clean and well-polished. And don't forget about your accessories. A pocket square is a nice touch, but make sure it coordinates with your outfit. And if you're sporting a watch, choose one that's appropriate for the occasion – a leather strap is usually a safe bet for formal events.
Lastly, don't forget about fit. No matter how expensive or well-made your outfit is, if it doesn't fit you properly, it won't look good. Get your measurements taken by a professional and make any needed alterations to ensure a perfect fit. And remember, confidence is key – wear your ensemble with pride and you'll look like a million bucks!
Get Dressed for Success: Tips to Look Your Best
When it comes to men's formal attire, it's essential to look sharp. Here are a few tips that I've picked up along the way:
Fit
You want your formal wear to fit well, not too tight or too loose. Make sure to get your suit tailored to your body shape and measurements. Don't forget the little things like getting the right length for the pants and sleeves. Remember, fit is king!
Color
It can be easy to default to black for formal occasions, but don't be afraid to mix it up. Consider navy, gray, or even a light pastel suit. Just make sure to match your accessories accordingly.
Patterns
While it's okay to have a little pattern in your formal wear, it's best to stick to subtle stripes, checks, or small dots. Make sure to coordinate your patterns with the rest of your outfit, too much can quickly become overbearing.
Accessories
Accessories can make or break your outfit. Make sure to invest in quality footwear, a matching belt, and a classic timepiece. Don't forget the details like cufflinks, pocket squares, and ties. Keep it simple and elegant, but don't be afraid to add a pop of color or texture.
Remember, the most important thing is to feel comfortable and confident in your outfit. With the right fit, color, patterns, and accessories, you'll look sharp and ready to take on any formal occasion.
5. Conclusion: Wrapping Up My Guide to Dapper Dressing!
And that's a wrap folks! This article was filled to the brim with tips and tricks for dressing up for the fanciest of occasions. From understanding formal attire to the basics of men's formalwear and the top tips for looking sharp, we've covered it all. But if you're still looking for more handy outfit advice, check out my friend Leah's blog where she shares expert advice on dressing for different occasions. It's always important to remember that dressing well is all about feeling your best, so don't be afraid to experiment with your style and make it your own! Now go forth and rock that formal attire with confidence!