What Fabrics Flatter Your Figure Best?
Introduction: Flaunting the Perfect Fabric for Your Body Shape!
Oh, fashion! It's an expression, an art, and a science all at once. I've always been intrigued by what makes an outfit perfect for someone. The answer is simple- the fabric! Before you start picking out clothes, you need to know what fabric is perfect for your body type. So, let me guide you through the magic of flattering fabrics and how to pick them for your body shape.
Before we dive into the topic, let's first define what "flattering" means in fashion. To put it simply, it's the art of highlighting your best features and minimizing your less-than-perfect ones. Flattering fabrics help in smoothing out problematic areas and accentuating curves in all the right places!
Now, let's talk about the different types of fabrics. You have cotton, wool, silk, and synthetic materials. Each fabric has its unique characteristics that affect how it looks and feels on your body. So, buckle up and get ready for a fun and informative ride through the world of fabric, style, and body types!
Check out this link to learn more about dressing for your body type!
What Fabrics Flatter Which Body Types?
Now that you know what body shape you have, we can talk about what type of fabrics will work best for you (and not for others). Let's dive into the specifics.
Apple Shape
If you have an apple-shaped body, you want to focus on fabrics that are flowy and don't cling to your midsection. Look for fabrics like silk, chiffon, and cotton. Avoid bulky fabrics like fleece and anything too tight-fitting. Stick to brighter colors on the top and darker colors on the bottom to create balance.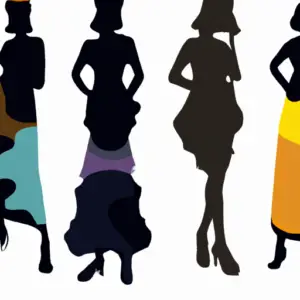 If you have a pear-shaped body, you'll want to look for fabrics that provide a flattering drape over your hips. We recommend lightweight fabrics like silk, chiffon, and modal. Avoid heavy fabrics like denim and corduroy, which can add extra bulk to your lower half. Stick to brighter colors on top and darker on the bottom, just like the apple shape.
Hourglass Shape
If you're an hourglass shape, you want fabrics that will accentuate your curves. Look for fabrics like merino wool, jersey, and satin that will hug your waist and bust but still provide some stretch. Avoid boxy fabrics like linen or oversized garments that could hide your shape.
Rectangle Shape
For those with rectangle-shaped bodies, you'll want to focus on fabrics that add some dimension to your curves. Gabardine, twill, and textured fabrics will work best for you since they add depth to your figure. Steer clear of stiff and rigid fabrics like cotton and denim that could cause you to look too boxy.
Remember, finding the right fabric for your body type can make a big difference in how confident you feel in your clothing. Don't be afraid to experiment with different fabrics to find what works best for you. And most importantly, have fun with it! The world is your runway.
Choosing the Right Fabric: Tips and Tricks
When it comes to fashion, choosing the right fabric is just as important as choosing the right style. As someone who loves to experiment with different fabrics, I have learned a lot about what works and what doesn't. Here are some tips and tricks that have helped me make the right choices:
Consider the Weight
The weight of the fabric is crucial in determining whether it will flatter your body type or not. Lightweight fabrics like chiffon, silk, and cotton are perfect for those who want a flowy, effortless look. These fabrics work best for petite women as they don't overpower the frame. On the other hand, heavier fabrics like denim, wool, and tweed work best for those who want structure and support. They are perfect for plus-size women as they help in defining the silhouette.
Pick a Color That Compliments Your Skin Tone
Choosing the right color for your fabric is essential to elevate your look. If you have a warm skin tone, go for fabrics with earthy tones like brown, beige, and olive green. If you have a cool skin tone, opt for colors like blue, purple and green. Pastels work well for both tones. Additionally, black is universal and can never go wrong. However, it's important to note that while black is slimming, it can also emphasize your flaws.
Look for Textures That Accentuate Your Curves
Fabrics with texture can work wonders on accentuating your curves. If you want to add volume, go for fabrics with patterns or embroidery. But if you want a slimming effect, go for fabrics with vertical lines or solid colors. When it comes to choosing the right texture, it's important to keep in mind the occasion. For formal events, opt for flowy fabrics like chiffon, silk, and satin. For casual events, go for denim, cotton, and linen.
By following these tips and tricks, you can choose the fabrics that flatter you the most. Remember, fashion is all about experimenting and finding what works best for you. Happy shopping!
Conclusion: Wrapping It Up
So there you have it, my fellow fashionistas! We have learned the importance of choosing flattering fabrics that complement our unique body types. By selecting the perfect fabric, we can enhance our curves and make them work in our favor.
Remember to keep in mind the weight of the fabric, color choices that compliment our skin tones, and textures that accentuate our curves. Don't be afraid to try out something bold and daring that will make you stand out in a crowd.
But most importantly, never forget that fashion is all about expressing your personality and feeling comfortable in your own skin. Be confident, be bold, and most importantly, be you!
So go out there and rock your own personal style with confidence, knowing that you have the knowledge to choose fabrics that flatter your body type. And always remember, fashion is not just about following trends, but about expressing your unique personality and sense of style.