Finding the Best Jeans for a Pear-Shaped Figure
Howdy! Let's Talk About Jeans for a Pear-Shaped Figure
Hey y'all! I'm so excited to share my tips for finding the perfect jeans for a pear-shaped figure. So, what is a pear-shaped figure? It's when your hips and thighs are wider than your shoulders and waist, giving you a "pear" shape. Believe me, I know the struggle of finding jeans that fit just right. But fear not, I've got you covered with some expert advice and brands to consider.
If you want even more tips on dressing for your body type, check out this article: Dressing for Your Body Type: Tips and Tricks. Now, let's talk about jeans!
Different Types of Jeans: Skinny, Bootcut, and Wide-Leg
Jeans come in all shapes and sizes, just like our bodies. For pear-shaped figures, it's important to find jeans that accentuate your curves while also providing comfort and support. There are three main types of jeans that work well for pear shapes: skinny, bootcut, and wide-leg.
Skinny jeans, despite their name, can work well for pear-shaped figures. Look for high-waisted, stretchy skinny jeans that hug your curves without being too tight. Bootcut jeans are a timeless classic that can balance out wider hips and thighs. The slight flare at the hem helps create a proportionate silhouette. Finally, wide-leg jeans offer a relaxed fit that gives a flattering, flowy look to the lower half of the body.
When trying on different types of jeans, make sure to pay attention to the fit. Look for jeans that fit snugly around the waist without gaping, and that don't sag or bunch around the thighs. Also, consider your body type and personal style when selecting a type of jean.
Find Your Perfect Pair: Tips for Picking Jeans That Fit Your Pear-Shaped Figure
Shopping for jeans can be a daunting task, especially when you're a pear-shaped figure like me. However, don't let that scare you! Here, I'll share some of my top tips for finding jeans that fit you like a glove, accentuating all the right places.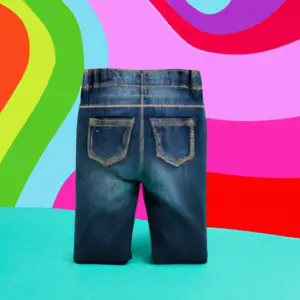 When it comes to finding the right jeans, it's essential to pay attention to your waist and thigh measurements. Unlike other body types, we pear-shaped people tend to have a smaller waist but wider hips and thighs. Try to find jeans that fit well around your waistline without being too tight on your thighs.
Finding the Right Rise
Choosing the right rise is crucial for pear-shaped figures. You'll want to look for jeans that have a higher rise at the back but a lower rise at the front. This design helps prevent that pesky gap at your waistband and flatters your curves.
Look for Stretchy Material
One of the best things about being a pear-shaped figure is that we can rock skinny jeans, but it's essential to find a pair with stretchy material. This design will enhance the comfort of the jeans and allow them to fit snugly around wider areas.
Recommended Brands
When it comes to finding the perfect pair of jeans, brands matter. Here are a few of my personal favorites:
– Levi's is known for producing high-quality jeans that last, and they have an excellent selection for pear-shaped figures.
– Old Navy has a wide range of jeans suited for different body types, including pear-shaped figures, and they're also budget-friendly.
– Gap has an extensive collection of jeans that fit a variety of shapes and sizes, and their designs are trendy yet timeless.
– Lucky Brand is excellent for finding jeans that are both stylish and versatile. They have a great selection of sizes and a fantastic fit.
Don't get discouraged when shopping for jeans! With these tips, you can find jeans that fit like a glove and make you feel confident and comfortable.
Top Brands That Work for Pear-Shaped Figures
If you're a pear-shaped figure, finding the right jeans can be a struggle. Luckily, there are some brands that work particularly well for us curvy ladies. Here are my top picks:
Levi's
Levi's has been around for over 150 years, so it's safe to say they know denim. They have a variety of styles that work well for a pear-shaped figure, including their classic 501s, which have a straight leg that's not too tight or too loose. Their Wedgie Fit jeans are also a great option, with a high rise that flatters the waist and hips.
Old Navy
Old Navy is a great option for those on a budget. They have a wide variety of sizes, including petite and tall options. Their Rockstar Jeans are a favorite among pear-shaped women, with a stretchy material that hugs in all the right places.
Gap
Gap is another affordable option with a range of sizes and styles. Their High Rise Wide Leg Crop jeans work well for a pear-shaped figure, with a higher waist and wider leg that balances out wider hips.
Lucky Brand
For a higher-end option, Lucky Brand's Brooke Legging Jeans are worth the investment. They have a stretchy material that molds to your curves, and their contoured waistband prevents any gapping at the back.
Remember, finding the right jeans is all about trial and error. Don't be afraid to try on multiple sizes and styles until you find what works for you. Happy shopping!
Best Jeans for Pear-Shaped Figure: Expert Tips
As someone with a pear-shaped figure, finding the right pair of jeans can be a daunting task. But fret not, there are plenty of options out there! After much trial and error, I have found a few key things to keep in mind when searching for the perfect pair of jeans.
Tips for Finding the Right Jeans
Firstly, it's important to consider both waist and thigh size. A good rule of thumb is to opt for high-waisted styles, as they accentuate your waist and help balance out your figure. Next, finding the right rise is crucial. Try to avoid low-rise jeans as they tend to accentuate your hips and create a muffin top effect. Instead, look for mid-rise options that sit just above your hips.
Another thing to take into consideration is the material. Stretchy fabrics like elastane and spandex are great because they hug your curves, without feeling suffocating. Lastly, always make sure to try on jeans before buying them. Sometimes, a specific style might not look as good on your body as it does on others.
Brands to Consider
While there are plenty of brands out there that cater to different body types, a few that stand out for pear-shaped figures include Levi's, Old Navy, Gap, and Lucky Brand. These brands offer a variety of styles and sizes, so you're bound to find a pair that fits like a glove.
In conclusion, finding the perfect pair of jeans for a pear-shaped figure can be a bit tricky. But by paying attention to your waist and thigh size, finding the right rise, looking for stretchy material, and trying on before buying, you'll be well on your way to finding your perfect pair.