Finding the Perfect Makeup Match The Best Brands for Every Skin Type
Introduction
Makeup is the art of enhancing one's facial features with the help of cosmetics. It has been used as a way to beautify for centuries by many different cultures, and today it is an essential part of everyday life for many women (and some men!). The sheer number of products can be overwhelming, and picking out the right ones for you can take some practice. That's why it's important to understand your skin type so you can find the best makeup products for your complexion.
When it comes to skin types, there are four main categories: oily, dry, combination, and sensitive. Each type has its own unique needs when it comes to makeup, so finding a brand that works with your specific skin type is key to ensuring a flawless look.
Best Makeup Brands for Oily Skin
If you've got oily skin, finding the right makeup brands can seem like a daunting task. But don't sweat it! With these two top-notch brands, you'll be looking your best in no time.
First up is Benefit Cosmetics. This brand offers an awesome selection of products that won't clog your pores or leave you with a greasy feel. All their makeup is formulated to draw out excess sebum and lock in moisture, so you won't have to fuss with it all day long. Plus, they've got some pretty incredible shades available that make it easy to customize your look!
Then there's L'Oréal Paris. They know how to cater to oily skin types, too, with face primers, foundations, and pressed powders specifically designed to keep shine away. Whether you want a matte finish or something that's got a bit of a dewy glow, they've got you covered. Their products also contain salicylic acid to help reduce acne flare-ups, so if you tend to break out, this could be a great option.
Best Makeup Brands for Dry Skin
No one likes having dry skin, but it's a reality for many of us, and finding the right makeup is key. As someone who knows a thing or two about makeup and skin care, let me tell ya – not all cosmetics are created equal when it comes to treating dry skin. Here are some of my favorite makeup brands that you should consider: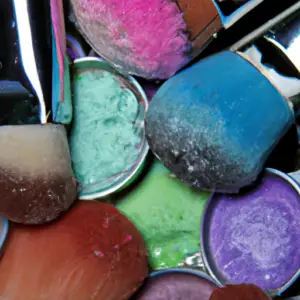 Benefit Cosmetics – Benefit's The POREfessional Hydrating Face Primer is made with hyaluronic acid, which helps draw water into your skin, leaving it feeling hydrated and moisturized all day long. It also blurs out any fine lines or wrinkles, giving you an even complexion.
L'Oréal Paris – L'Oréal's True Match foundation is designed specifically for dry skin. It provides full coverage while still allowing your skin to breathe, and its formula is packed with nourishing ingredients like Vitamins C and E, which help to keep your skin looking healthy and glowing. Plus, it doesn't cake on, so you won't have to worry about looking overdone.
MAC Cosmetics – MAC's Studio Fix Fluid Foundation delivers medium-to-full coverage that's perfect for dry skin. It's oil-free and noncomedogenic, so it won't block your pores or cause any irritation. Plus, its unique blend of microspheres creates an incredibly smooth, matte finish that won't flake off during the day.
bareMinerals – bareMinerals' Complexion Rescue Tinted Hydrating Serum is formulated with marine botanicals and mineral SPF 30 that protect and repair your skin while also providing a sheer, natural tint. It will keep your skin feeling soft and hydrated all day long, without any greasy residue.
So, if you're dealing with dry skin, try one of these amazing makeup brands and you'll be sure to find something that works for you!
Best Makeup Brands for Combination Skin
When you have combination skin, you know the struggle: one moment you're greasy, next minute, dry. It's a tricky business having to find makeup that works for both! But don't worry: I've got the inside scoop on which makeup brands work best for combination skin.
My top pick for combination skin would be Maybelline. They offer a variety of formulas that are just perfect for those with combo skin—lightweight enough for oily areas, but hydrating enough for dry patches. Plus, they're affordable, so you don't have to break the bank!
Next up is Clinique. Clinique is kind of like the upgrade version of Maybelline: their prices can be a bit higher, but the payoff is worth it. Their products won't clog your pores, leaving your skin feeling smooth and looking fabulous.
I'm sure whatever skin type you have, finding the right makeup brand for you can be a real challenge. But trust me: these two are sure to give you the results you want. So go ahead and give them a try!
Best Makeup Brands for Sensitive Skin
If you're someone who's got sensitive skin, you know the struggle of finding makeup that won't make your face explode. Trust me, I've been there. But don't worry – I'm here to help you out! Here are the best makeup brands to try if your skin is on the sensitive side.
One of my top picks is Neutrogena. They offer hypoallergenic makeup that's specifically designed for sensitive skin. Plus, their products don't contain many of the irritating ingredients that can cause redness and irritation. So, if your skin needs a break from all the harsh chemicals, Neutrogena is the way to go.
Another great option for people with sensitive skin is Glossier. Their products are super gentle and lightweight, so they don't clog pores or irritate your skin. Plus, they have a wide range of shades and formulas that work great on all skin types. So whether you need a foundation, blush, or lip gloss, Glossier has got you covered.
When it comes to finding makeup for sensitive skin, there's no one-size-fits-all solution. But with these two brands in mind, you'll be able to find something that works for you and helps keep your complexion looking its best.
Conclusion
Look, finding makeup that works for your skin type is no small feat. Whether you're oily, dry, combination, or sensitive there's a brand out there to give ya the edge you need. I've given you a rundown of some of the major brands and what each specializes in, so use this info wisely!
Benefit Cosmetics is a great option for those with oily skin, L'Oreal Paris is a solid pick for those with dry skin, if you have combo skin MAC Cosmetics and bareMinerals are where it's at, and Neutrogena and Glossier are the way to go for those with sensitive skin.
When push comes to shove, you gotta take my tips here into consideration before picking up a new foundation. It can't hurt to peruse reviews before you decide on a product – that can be the difference between picture-perfect and absolutely tragic!
FAQs About Makeup
Which foundation is used for all skin types?
Well, I'll tell ya, when it comes to foundations for all skin types, there's no one-size-fits-all solution. It all comes down to finding the right formula and ingredients that will work with your skin type and complexion. Generally, what I'd suggest is starting off with a lightweight, oil-free formula that won't clog your pores like a heavier foundation can. Look for one that includes oils like argan or jojoba, which help your skin stay hydrated without feeling heavy. Avoid anything that contains parabens, sulfates, and fragrance (unless you have sensitive skin, in which case it might be best to steer away from all of those). I have had a lot of success with makeup brands like IT Cosmetics, Charlotte Tilbury, and YSL Beauty, which all have solid foundations that won't break the bank. Another suggestion is to look for a tinted moisturizer instead of a heavier foundation as that can often provide enough coverage without feeling too thick.
Which foundation is best for every skin tone?
Finding the right foundation for every skin tone can seem daunting, but have no fear! With a little research and trial and error, you can find the perfect foundation for your needs. To help you out, I've rounded up the best foundation choices for every skin type and tone.
For those with dark skin tones, Estee Lauder Double Wear Stay-in-Place Makeup is a great option. Its oil-free, long-wearing formula provides medium to full coverage with a natural, semi-matte finish. It's tough to beat when it comes to coverage—it conceals dark spots, blemishes, and fine lines for a flawless look.
If you have fair or light skin, Clinique Even Better Makeup SPF 15 is an ideal choice. Its creamy formula helps even out skin tone, while its broad-spectrum SPF 15 provides sun protection. It's also oil-free, so it won't clog pores or leave skin feeling greasy.
For those with normal to combination skin, NARS Sheer Glow Foundation is a great option. Its lightweight and oil-free formula provides sheer to medium coverage and can be layered to build up coverage as needed. It also contains skincare benefits, like antioxidants and Vitamin C, to help brighten and even out the skin tone.
Finally, for those with sensitive skin, I highly recommend bareMinerals Complexion Rescue Hydrating Foundation Stick. It's a mineral-based formula with broad-spectrum sun protection and a light, creamy texture that won't irritate sensitive skin. Plus, it's enriched with hyaluronic acid for added hydration.
Which makeup brand is best for daily use?
If you're looking for the best makeup brand for daily use, I'd recommend going with one that caters specifically to your skin type. For instance, if you have dry skin, you'll want to look for a brand that offers products specifically designed for that type of skin. On the flip side, if you have oily skin, you'll want to be sure to pick products that will help balance the natural oils. Don't forget to factor in your skin tone too – you'll want a brand that offers shades that are perfect for you.
Of course, not all makeup brands are created equal. There are some higher-end brands that may offer better quality products, but they also come with a hefty price tag. On the other hand, there are some more budget-friendly options that are just as good. Do some research, read reviews, and try out a few different options to find out what works best for you.
Finally, don't forget that some makeup products don't have to be expensive to be effective. If you are just starting out, there are some great drugstore brands that will work just as well as the pricier ones, and you don't have to break the bank to look good!