Dressing for Different Seasons Tips & Tricks
Seasons are changes in weather and temperature that occur throughout the year. Summer, winter, fall and spring all bring different climates and changes to our lives, and so do our wardrobes! Knowing how to dress for each season is key to remaining comfortable and looking your best no matter what time of year. In this blog, I'm gonna walk you through the benefits and tips on choosing clothes for each season to help you stay chic and comfortable.
How to Dress for Summer
Ah, summer. That time of year when it's so hot that you can't help but mope. But don't worry! With the right outfit, you can cool off in style. Here's how.
Dressing in lightweight fabrics is key. Whether it's linen, cotton, or rayon, these breathable materials will keep you looking cool and staying comfortable all day long. And if you're trying to beat the heat, avoid thick or dark colors. Go for light shades in natural tones instead.
But it's not just fabric that matters. Cut and fit are also essential. While shorts are a must-have, look for styles that don't hug your legs too tightly. As far as tops go, go for slightly oversized and billowy silhouettes. Not only will they keep you cooler, but they'll be on trend, too!
Don't forget: accessories can make a huge difference in any outfit! So when the temperature rises, reach for a stylish sunhat, sunglasses, and some statement jewelry. They might seem small, but these items can really pull an ensemble together.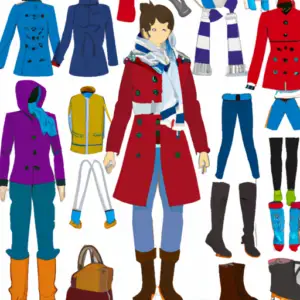 By keeping these tips in mind, you'll be able to breeze through summer in style.
How to Dress for Winter
If you live in a place that experiences winter, chances are you know the importance of dressing warmly. From snow days to ski slopes, cold weather brings with it unique fashion challenges. It can be tricky finding a look that will keep you cozy and still make you look fabulous. Here are a few tips to help you look great while staying warm this winter:
Firstly, layer up! Since layers trap body heat, wearing multiple items is one of the best ways to stay warm. Try pairing a long sleeve thermal top with a knit sweater or vest over top. To spice it up, add a scarf, cardigan, or denim jacket. When picking the perfect pants, opt for wool trousers or jeans, depending on the occasion. If it's especially cold outside, make sure your coat has down feathers to keep you extra snug.
Next, choose the right fabrics. Wool, cashmere, and fleece are all great options to combat the cold. Velvet, chunky knits, and faux fur are good choices too! Avoid lightweight cottons and silks, as these won't do much to protect you from icy temperatures. Instead, try out some silk/cashmere blends for softness without sacrificing warmth.
Finally, focus on footwear. When dressing for winter, you want to invest in quality boots and shoes. Look for waterproof materials such as leather or rubber that will prevent your feet from getting wet. Thick socks and insulated boots can help to shield your feet from the chill. If you plan on being outdoors for an extended period of time, consider buying insulated boot liners to keep your toes toasty.
Whether you're hitting the slopes or heading out to brunch, keeping warm during winter doesn't mean sacrificing style. With these simple tips, you can look chic while staying warm and cozy all season long.
How to Dress for Fall
Ah, fall — time for crunching leaves and sipping hot apple cider. But what about fashion? Sure, it's cooler out, but don't let that fool you into thinking you can get away with the same old style choices. To take your look to the next level this season, here are some tips on how to dress for fall.
Layering is key when it comes to fall fashion. You'll want to invest in pieces that you can combine for a variety of looks, like jackets, sweaters, scarves, and hats. Think of these items as your armor against the chillier temperatures. That way, if it's mild out, you can just strip off a layer or two; and if it's really cold, all you gotta do is pile 'em on.
Texture also plays a big role in fall dressing, so reach for textured material like corduroy, wool, velvet, and suede. These fabrics feel cozy and luxurious, plus they add visual interest to an outfit. And don't forget about color! We've entered the season of oranges and browns, so embrace these earthy hues for your everyday wardrobe.
Finally, you'll want to keep comfort in mind. Nothing kills fashion faster than discomfort, so go for pieces that fit well and are easy to move around in. Look for materials that have some sort of stretch in them, and stay away from anything too constricting. After all, you're trying to look good and feel comfortable, not the other way around.
With these few tips, you'll be able to create the perfect outfit for any fall occasion — and don't forget about those accessories, either! Have fun, experiment, and above all else, express yourself through your wardrobe.
How to Dress for Spring
Ahhh, springtime! Feel that warm breeze on your face? Now it's time to make sure your wardrobe is adjusted accordingly. Spring weather can be tricky, so it's essential to have the right clothing choices on hand. After all, you don't want to be caught in an unexpected rainstorm with nothing more than a light sweater! Here are some tips on how to dress for spring.
Layering is critical in springtime. On milder days when temperatures could swing high or low, it's wise to stick to light layers like tees and tanks paired with cardigans, scarves, zip-up hoodies and other comfy outerwear. This will keep you from feeling too chilled in the later afternoon once the sun goes down, but also won't leave you sweltering during the warmer part of the day.
When it comes to color selection, don't feel limited to lighter shades. Introduce some brighter hues into your outfit to add a bit of sunshine when that midday sun isn't quite enough. As far as prints go, polka dots and floral patterns fit the season perfectly. And if you're looking for an extra boost, accessorize with bold jewelry items.
But don't forget that unpredictable spring weather. If the forecast says rain, be sure you've got an umbrella handy, plus a light coat or windbreaker to help ward off the chill. Of course, if you plan on taking advantage of the oft-unexpected warm spells by visiting the park or just wandering about town, you'll definitely want to pack a pair of sunglasses, too!
As you can see, dressing for spring can be both fun and functional. With the right mix of comfort, color and coverage, you can put together stylish combinations that will work for any eventuality. This season, don't be afraid to step out of the box and experiment with new looks!
Conclusion
Alright folks, here we are – it's the grand finale! After all that talk about dressing for the seasons, I think it's my duty to sum up how you can stay sharp no matter the weather. Here's what it boils down to: for summer, wear light and breathable clothing – think cotton and bright colors; for winter, bundle up in warm layers; for fall, reach for transitional pieces with style; and for spring, add a dash of color!
It never hurts to keep it trendy, so consult the latest fashion magazines and blogs to stay ahead of the pack. Speaking from personal experience, I can tell you it pays to invest in sturdy, timeless wardrobe essentials that won't go out of style in years to come. That way, your wardrobe will remain on-point no matter the season.
FAQs on Seasonal Fashion
What do you wear to the Four seasons?
As an experienced style consultant with decades of experience under my belt, I can assure you that dressing for the four seasons isn't as difficult as you may think.
In the springtime, light layers are key. Swap out thick sweaters and coats for breathable, lightweight pieces like linen shirts, bomber jackets and cotton trousers. Add a pop of color with your choice of accessories like a bright scarf or patterned socks.
When the weather heats up in the summer months, go for lightweight fabrics like seersucker, chambray and denim. Add shorts or a linen skirt to stay cool and incorporate loose fitting tees and tanks for a relaxed, breezy look. Don't forget the sunnies, sandals and a hat!
Autumn calls for heavier, darker layers. Look to fabrics like tweed, corduroy and wool to stay warm without looking too bulky. Choose boots and a coat as your statement pieces, and don't be afraid to mix and match colors and textures. Top it off with a cozy scarf and hat.
Finally, winter requires the most tactical wardrobe planning. Invest in heavy duty winter coat and durable boots, and layer up with chunky sweaters and a warm scarf. If you're feeling adventurous, try layering thermals or long johns underneath your outerwear for an extra layer of warmth.
What Colours to wear in each season?
When it comes to dressing for different seasons, the key is to stay ahead of the curve. I like to think of it as a game of chess: you want to make sure your outfit is one step ahead of the temperature.
In the winter, I like to go for a warm and cozy look. Think lots of layers, like a chunky knit sweater, a long coat, and a scarf for an extra layer of warmth, then top it off with a stylish hat.
Spring, on the other hand, is all about embracing the lighter side of fashion. Stick with lighter fabrics like cotton, and light-colored tones, like pastels. And don't forget about the accessories: nothing says spring like a chic pair of sunglasses and a colorful scarf.
As for the summer, it's all about bright and cheerful colors. Stand out in the sun with intense hues like red, orange, and yellow. Just make sure you remember your sunscreen!
Come fall, I recommend opting for richer, deeper tones like mustard and olive green. And don't be afraid to experiment with layering: a chunky sweater over a light dress can be a great look.
No matter the season, you want to make sure you keep comfortable and stylish. That way, you'll always look your best.