Women's Beachwear Stand Out on the Shore
Get Ready to Slay the Beach with these Stylish Beachwear Options
Hey there, beach lovers! If you're planning a beach vacation, then make sure to pack the right kind of stylish beachwear that will make you slay under the sun. As an expert in fashion, I have curated a list of must-have beachwear options that will make you stand out from the crowd.
But first, let's define what stylish beachwear is all about. To me, it's not just about looking good, it's also about feeling comfortable and confident. After all, beachwear should be easy-breezy, relaxed, and functional. So, let's get started!
H2: Trendy Swimsuits – The Ultimate Guide to Rocking A Beach Day!Oh, I love swimsuits! They're the perfect excuse to show off your beautiful body. When it comes to stylish beachwear, swimsuits are the star of the show. Here are some trendy styles that will make you the envy of the beach.
First off, one-piece suits are back and hotter than ever! These aren't your grandma's one-pieces, either – we're talking high-cut legs, unexpected cutouts, and plunging necklines. Trust me, you'll feel just as sexy as you would in a bikini. Plus, they offer more coverage for those who want it.
Now, when it comes to patterns and colors, don't be afraid to go bold. Neon hues, animal prints, and botanical patterns are all the rage this season. You could even mix-and-match different prints or pair a bright top with a more understated bottom for a chic look.
Aren't you excited to hit the beach in style?
Elegant Cover-Ups: How to Elevate Your Beach Look
Hey there, beach babes! When it comes to beachwear, swimsuits are the star of the show. But, if you want to elevate your look and add a touch of elegance to your ensemble, cover-ups are the way to go. Here are some of my favorite cover-up styles that will make you feel like a confident and stylish beachgoer.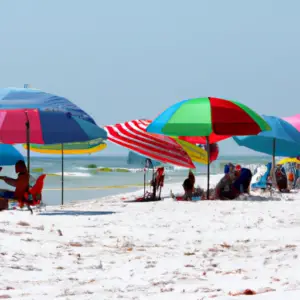 A kimono-style cover-up is a versatile and elegant addition to any beach outfit. Made from lightweight fabric and featuring a flowy silhouette, this type of cover-up is perfect for those who want to leave a little something to the imagination while still showing off their swimsuit. Pair a kimono-style cover-up with a wide-brimmed hat and oversized sunglasses for a chic and sophisticated look.
Kaftan-inspired designs
Kaftan-inspired cover-ups are both stylish and comfortable, making them a great option for a day at the beach. With their lightweight, flowing fabric and elegant cuts, these designs offer a touch of luxury to your beach ensemble. Choose a kaftan in a bright and bold color to really make a statement.
Remember, your cover-up is not just a practical item of clothing, it's also part of your overall look. By choosing an elegant cover-up, you'll feel confident and stylish while enjoying the sun, sand, and sea.
My Secret to a Perfect Beach Day: Eye-Catching Hats!
Hey y'all! When it comes to beachwear, nothing completes a look like a sassy and functional hat. I always bring a variety of hats with me to the beach, and they never fail to be a conversation starter. Here are my expert tips on the best types of hats to wear for a stylish day at the beach.
Wide-brimmed hats
One of my go-to styles for the beach is a wide-brimmed hat. These hats not only protect your face and shoulders from the sun, but they also add a touch of sophistication to your beach look. I prefer a neutral-colored hat with a ribbon or bow detail, but you can also find fun patterns or tassels for a more playful vibe.
Floral or statement pieces
If you want to really make a statement, try a hat with a bold floral pattern or a unique shape. These hats are sure to turn heads and have everyone asking where you got it from. Just be sure to pair it with a simple swimsuit and cover-up, so the hat can be the star of the show.
So next time you hit the beach, don't forget to pack a hat. Not only will it complete your look, but it will also protect you from the sun and keep your hair under control. Trust me, a hat can make all the difference in your beach day experience!
Add Some Accessorizin'!
Now that we've covered the stylish swimsuits and cover-ups, it's time to amp up our beach game with some accessories! Trust me, a great pair of shades and a cute scarf can turn a basic swimsuit into a complete beach look. Here are some tips on how to accessorize your beach outfit like a pro.
Shadiness is Key
One of the most important beach accessories are sunglasses! Not only do they protect your eyes from the sun's harmful rays, but they also add some serious style points. Personally, I love oversized frames, but everyone has their own preference. Opt for a classic black pair or go bold with some fun-colored shades. Just make sure they're comfortable and stay on during all your beach activities!
Scarf it Up
If you're looking for a quick and easy way to add some beachy flair to your outfit, throw on a summer scarf! Not only do they keep your neck from getting sunburnt, but they can also add some color or pattern to your look. Tie it around your neck, wrap it in your hair, or even use it as a sarong if you forgot yours at home. The possibilities are endless!
The Whole Shebang
If you really want to make a statement, go all out with your accessories. Pair your swimsuit with a wide-brimmed hat, some statement earrings, and a beach bag to hold all your essentials. Mix and match complementary colors and patterns for a cohesive yet eye-catching ensemble.
Don't be afraid to experiment and have fun with your beachwear accessories. Just remember to keep it comfortable, practical, and true to your personal style. Check out this article for more ideas and inspiration on how to rock your beach outfit like a boss.
Wrap it up in style: The best beachwear options for fashion-forward sun-seekers
So there you have it, folks. After researching and testing numerous beachwear options, I'm here to tell you all about the best stylish beachwear options. Whether you prefer one-piece swimsuits adorned with fun patterns and bright colors, or elegant kimono-style cover-ups, there's a lot out there to choose from.
And let's not forget about the hats – wide-brimmed with floral accents or statement pieces – and adding accessories like stylish sunglasses and light summer scarves to your beachwear look.
Overall, it's clear that even while enjoying the seaside, fashion should still be a priority. So experiment with these stylish beachwear options, and don't be afraid to make a bold statement with your beach look. Remember, confidence is key!