Dressing for Different Occasions
Get Dressed for Success: Navigating Occasion Wear
Hey there! Are you trying to figure out what to wear for your next big event? Well, you've come to the right place! Dressing for any occasion can be a challenge, but don't worry, I've got you covered.
First things first, let's define what we mean by 'occasion'. This term generally refers to events or activities that have a specific purpose, such as business meetings, social gatherings, or outdoor events, and each requires a specific type of dressing style.
To help you navigate these different types of occasions, I will provide you with expert advice on what to wear to each and every one of them. So, let's get started!
Workin' it: Dressing for the Office
When it comes to dressing for work-related events, there are some important things to consider. First of all, you want to make sure you're dressed professionally for meetings and presentations. This means wearing business attire that's appropriate for your job and the company culture. For some workplaces, a suit and tie might be necessary, while others might allow for something a little more relaxed.
However, it's not all suits and ties – there are also plenty of opportunities for business casual dressing at conferences and seminars. This means you can get away with something a little more comfortable and relaxed, while still looking professional. Think khakis or chinos with a collared shirt or blouse, finished off with dress shoes or comfortable heels.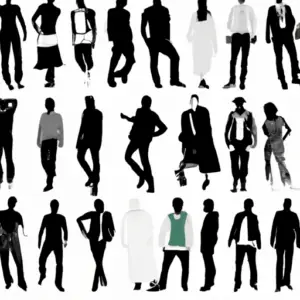 At the end of the day, it's all about finding the right balance between professional and comfortable. You want to make sure you're dressed for success, but also feel confident and at ease in your attire. Don't be afraid to do a little research into what's appropriate for your workplace or conference, and be open to trying out new styles and outfits. With a little effort and experimentation, you can find the perfect work-related wardrobe that helps you feel confident and successful.
Social Gatherings: Dress to Impress!
Alright folks, let's talk about dressing for social events. This is where you can let loose and show off your personal style, but don't forget to dress appropriately for the occasion!
For dinners and parties, smart casual attire is always a safe bet. Think of it as dressing up your everyday clothes a bit. For men, a nice pair of jeans or chinos paired with a collared shirt and dress shoes will do the trick. Ladies, try a cute dress or skirt with a blouse and comfortable heels. But remember, the key is to feel comfortable and confident while still looking put-together.
Now, onto formal events. Black tie attire means you need to step it up a notch. Men, this is your chance to wear a fancy tuxedo or formal suit with a bow tie. Ladies, it's time to bring out your most elegant gown or cocktail dress paired with high heels and statement jewelry. And don't forget to invest in a good pair of stockings or pantyhose if you're wearing a dress!
Overall, the most important thing when dressing for social occasions is to do your research and be mindful of the dress code. Always aim to make a good impression while staying true to your personal style. Happy dressing!
Heading 4: Get Your Casual Wear On for These Outdoor Events!
Now, let's talk about outdoor events. These occasions are all about feeling comfortable and relaxed while still looking stylish. Whether you're going to a picnic, barbecue, or garden party, you need to have the right outfit to make the most of your time outdoors.
Casual Wear for Picnics and Barbecues
Casual outfits are perfect for picnics and barbecues. I recommend wearing comfortable shorts or pants, paired with a t-shirt or a sleeveless blouse. You can opt for light-colored clothing to help you stay cool under the sun and don't forget to accessorize with a hat or a pair of sunglasses to protect your face and eyes. As for footwear, sandals or sneakers are a great option for casual outdoor events.
Semi-Formal Dress Code for Garden Parties
Garden parties call for semi-formal attire, so wearing a dress or a skirt is appropriate for this occasion. If you prefer to wear pants or shorts, make sure to pair them with a dressy blouse or a jacket to give your outfit a polished look. I recommend wearing light fabrics, such as cotton or linen, to stay cool in the heat and make sure that your shoes are comfortable and appropriate for walking on grassy areas.
Remember, outdoor events are all about having fun and enjoying the company of others. Dressing appropriately for these occasions will help you feel comfortable, confident, and stylish. So, make sure to check the event's dress code and start preparing your outfits ahead of time to avoid last-minute stress. Have fun!
Wrap it up: My Fashion Tips for Nailing the Occasion
So there you have it, folks! We've gone through all the different occasions that may require us to dress up or dress down. From work-related events to social gatherings and outdoor occasions, there's a variety of dress codes that we need to keep in mind.
But let me tell you, the key to mastering these dress codes isn't just about following the rules, but about adding your own personal touch to it. Whether it's a statement accessory or a unique color combination, always remember to showcase your own style!
However, don't forget to also prioritize practicality when dressing up for an occasion. Consider the venue, weather, and activities you'll be doing so that you can choose a comfortable outfit that still matches the dress code. And of course, make sure your outfit is properly cleaned, ironed, and fitted.
Last but not least, one of the best fashion tips I can give is to invest in versatile pieces that could work for different occasions. A classic little black dress, a well-tailored blazer, or a pair of comfortable yet stylish shoes are all great wardrobe staples that you can mix and match depending on the occasion.
So go on and rock your outfit with confidence, whether it's a casual picnic or a fancy gala. Just remember, wear what makes you feel good and shows off your unique personality. Happy dressing!
Dress Etiquette FAQ
Is it necessary to dress differently for different occasions?
Well, to be honest, it's not always necessary to dress differently for different occasions, but it can definitely help you make a better impression and be more comfortable. For example, if you're going for a formal job interview, wearing a suit or a dress can show that you're taking the opportunity seriously and can make you look more professional. On the other hand, if you're going to a barbecue with your friends, wearing more casual and comfortable clothes can make you feel more relaxed and at ease. It really depends on the occasion and what you want to project. That being said, there are certain style tips that can help you choose the right outfit for different occasions. One important thing to consider is the dress code – whether it's black tie, business casual, or casual, following the dress code can help you avoid any awkward situations. You can also take inspiration from the location, the weather, and the time of day, as these factors can influence what kind of clothes are appropriate. Another useful tip is to choose clothes that fit you well and make you feel confident, as this can make a big difference in how you carry yourself. In the end, the key is to strike the right balance between comfort, style, and appropriateness. By considering these factors and staying true to your personal taste and personality, you can create a look that works for you and the occasion. So, whether you're dressing up for a wedding or dressing down for a weekend brunch, make sure to put some thought into your outfit and enjoy the occasion!
What determines how we dress?
How do I dress according to different occasions? That's a great question! In my opinion, what determines how I dress is the event or occasion, the weather, and the company I'm with. For instance, if I'm attending a business meeting, I'll wear something formal like a suit and tie, but if I'm meeting friends for a casual lunch, I'll dress more casually in jeans and a t-shirt.
Another thing to consider is the weather. If it's hot and sunny outside, I'll dress in light and breathable clothing like cotton shirts and shorts. In contrast, if it's cold and windy, I'll dress in warm layers to keep myself cozy and comfortable.
Finally, the company I'm with also determines how I dress. If I'm attending a party with my boss, I'll dress more formally to show respect and professionalism. On the other hand, if I'm spending time with close friends or family, I'll dress more casually and comfortably.
To summarize, how I dress depends on the event, the weather, and the company I'm with. It's important to consider all these factors before choosing what to wear, as it can impact how others perceive me and my level of comfort throughout the day.
How do you dress differently from the crowd?
Well, let me tell you, dressing according to different occasions is all about knowing the vibe and theme of the event. For formal occasions, such as weddings or work events, I always opt for a classic suit and tie combo. For more casual events, like a friend's dinner party or a day out with family, I might opt for something more relaxed like a pair of jeans and a simple t-shirt.One thing that sets me apart from the crowd is that I like to add a bit of personal flair to my outfits. Whether it's a funky tie or a colorful pair of socks, adding something unexpected to my look always sets me apart from the masses. That being said, it's important to be mindful of not only the event, but also the setting and culture of the environment. Dressing appropriately is a sign of respect and shows that you care about making a good impression. To sum it up, it's all about balance and understanding the tone of the occasion. Don't be afraid to add your own twist to your outfit, but always make sure to keep things respectful and appropriate.
how do you dress according to different occasions?
Well, dressing up for different occasions can be quite challenging, but it can also be a fun way to express your personality. First off, you have to consider the event you'll be attending. If it's a formal occasion like a wedding or a gala, a suit and tie is usually the safe bet for men while a long dress or a cocktail dress for women is always a classic choice. However, it's always good to check if there's a dress code to follow. On the other hand, if it's a more casual event like a picnic or a beach party, something more laid-back like shorts and a t-shirt or a sundress would be appropriate. But remember, it's always better to be overdressed than underdressed. It shows that you made an effort to look your best and respect the occasion. Another factor to consider is the weather. If it's a hot summer day, wearing light-colored clothing and breathable fabrics like cotton or linen can help you stay cool and comfortable. For colder seasons, layering up with a sweater or a jacket is always a good idea. Lastly, don't forget about accessorizing. Adding a few pieces of jewelry or a scarf can elevate your outfit and make you stand out. But always remember to dress appropriately and comfortably for the occasion and have fun with your outfit!