Stylish Summer Outfits for Women Ideas and Inspiration
"Summertime and the Livin's Easy": A Guide to Stylish Summer Outfits
Hey, y'all! It's your girl here dishing out the deets on how to slay the summer fashion game. First things first, let's define what a stylish summer outfit is–it should make you feel confident, comfortable, and ready to take on the world (or at least your day).
Tips for Choosing the Best Summer Outfit
Hey there! So you're looking for tips on how to choose the perfect summer outfit? Well, you've come to the right place! As someone who loves fashion and has spent countless summers perfecting my own summer outfits, I've got some expert advice to share with you.
Comfort and Fit: Your Top Priority
When it comes to choosing a summer outfit, comfort and fit should be your top priority. You don't want to be stuck in an outfit that's too tight or too loose, making you feel uncomfortable or insecure. Opt for breathable fabrics like cotton, linen, and rayon that allow your skin to breathe and keep you cool in the hot weather. Additionally, make sure your outfit fits you well and flatters your body type, whether you're petite, plus-size or athletic.
Consider the Occasion
It's important to consider the occasion when choosing your summer outfit. Are you going to a beach, a party, or a casual outing? Depending on the event, you may want to dress up or down. For a beach day, you might want to opt for a flowy maxi dress, while for a party, a chic jumpsuit or a summer dress might be more appropriate.
Types of Fabrics
The type of fabric you choose for your summer outfit can make all the difference in how comfortable you feel. Lightweight and breathable fabrics are key when it comes to creating the perfect summer outfit. Avoid materials like polyester or heavy denim, which can make you feel sweaty and uncomfortable in the heat. Instead, choose fabrics like cotton, linen, or rayon, which are light and airy, and will allow you to move more easily.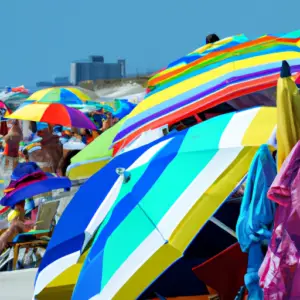 By keeping these tips in mind when shopping for your summer wardrobe, you'll be able to create the perfect outfits for any occasion while feeling comfortable and confident. Happy shopping!
Popular Summer Outfits for Women
Hey there, ladies! Let's talk about the hottest summer outfits for us this season. Whether you're hitting the beach or going on a date, you'll want to look and feel your best. Here are some popular summer outfit ideas for women:
Dresses
Dresses are a classic summer staple. They're easy to wear, airy, and they come in a variety of lengths and styles. From maxi dresses to mini dresses, there's something for everyone. For a casual day out, I love wearing a flowy sundress with a pair of sandals. And for a fancier occasion, a bodycon dress with heels always does the trick.
Jumpsuits
Jumpsuits are another versatile summer option. They're comfortable, stylish, and can be dressed up or down. I love wearing a lightweight jumpsuit with sneakers for a day of running errands. And for a night out, a dressy jumpsuit with strappy heels and statement earrings is the perfect choice.
Skirts and Shorts
If you're not a dress or jumpsuit person, skirts and shorts are the way to go. These pieces allow you to mix and match different tops and accessories for a unique look every time. A denim skirt with a crop top and sandals is a go-to for a laid-back day. And for a dressier occasion, high-waisted shorts with a blouse and wedges make a statement.
So there you have it, some popular summer outfit ideas for women. Don't be afraid to mix and match different pieces to create your own unique style. Remember to stay cool and comfortable in the summer heat!
Accessorizing Your Outfit – The Fun Part!
Now that you've chosen the perfect summer outfit, it's time to add some personality with accessories! This is the part I love the most – it's where you can really make your outfit stand out. Here are some tips on how to accessorize like a pro:
First of all, let's talk about shoes. Shoes can make or break an outfit. For a casual daytime look, I like to go for comfortable sandals or sneakers. If you're heading out at night, opt for some stylish heels or wedges to elevate your outfit.
Jewelry is another fun way to add personality to your outfit. Necklaces, earrings, bracelets – the options are endless. When choosing jewelry, always consider the neckline of your top or dress. If you're wearing a low-cut top, go for a statement necklace or pair of earrings. If your outfit is more minimal, you can play around with bolder pieces.
Finally, don't forget about bags. A summer bag should be practical and stylish. A cute tote or backpack is perfect for a day out at the beach, while a clutch or crossbody bag is great for a night out. Don't be afraid to have fun with your bag choices!
Remember, the key to accessorizing is to have fun and let your personality shine through. Don't be afraid to mix and match different pieces until you find what works best for you.
Styling Ideas for Different Body Types
Okay, so we all have different body types, right? And that's totally okay! The key to looking stylish and feeling confident is finding outfits that flatter your specific shape. Here are some styling tips for different body types:
Petite
If you're on the petite side, you want to avoid anything that overwhelms your small frame. Opt for cropped tops, high-waisted bottoms, and vertical stripes. These will elongate your silhouette and make you appear taller. Also, don't be afraid to show some skin! Shorter hemlines and low-cut tops can help create the illusion of height.
Plus Size
If you're plus size, you want to look for outfits that accentuate your curves and highlight your best features. Don't be afraid to show off your waist with a belt or form-fitting clothing, and don't shy away from patterns! Bold prints can help create a balanced look and draw attention away from any areas you'd like to hide.
Athletic
For those with a more athletic build, you want to create the illusion of curves and femininity. Ruffles and frills can help soften your look, and don't be afraid to show off your toned arms and legs with sleeveless tops and shorts. You can also play around with different necklines to create the appearance of a fuller chest.
Remember, these are just guidelines. At the end of the day, wear what makes you feel confident and comfortable! And don't forget to rock your unique look with pride.
Conclusion: Finishing up my guide to chic summer dressing
Wow, we've covered so much in this guide! From the definition of a stylish summer outfit to tips for choosing the best one for you, we've covered all the bases. One key thing to keep in mind is the importance of comfort and fit. No matter how stylish an outfit may be, if it doesn't feel good on your body, you'll never feel confident wearing it. It's also important to consider the occasion when picking out your summer outfit. A beach day requires a different outfit than an outdoor wedding, for example. And don't forget about the different types of fabrics out there, like lightweight cotton and breathable linen. When it comes to popular summer outfits for women, the options are endless. Dresses are a classic choice, and jumpsuits are becoming more and more popular. Skirts and shorts are also great picks. And don't forget about accessorizing! Shoes, jewelry, and bags can really elevate an outfit. Lastly, I want to touch on how to style summer outfits for different body types. If you're petite, go for vertical stripes and high-waisted bottoms to elongate your figure. Plus-size ladies can embrace their curves with wrap dresses and flowy tops. And athletic builds can rock crop tops and fitted shorts to show off their toned legs. All in all, summer dressing should be fun and carefree. Don't be afraid to experiment with different styles, colors, and prints. The key is to find what makes you feel confident and comfortable. Happy summer dressing!