Shopping for Clothes Online Tips and Tricks
Introduction
Shopping for clothes online can seem like an intimidating prospect. But with a few simple steps and helpful tips, you could quickly become a pro shopper! With the advancement of technology, more and more people are purchasing their clothing online. This changes the way we shop, allowing us to explore different styles from around the world. Now, instead of having to travel to multiple stores and trying on hundreds of shirts and pants, all you need is a good internet connection and you're good to go. From the comfort of your own home, you can browse the styles of an endless amount of stores with just a couple clicks of the mouse.
The benefits of shopping for clothes online are numerous; you have access to more variety, no lines or crowds, cheaper price tags and convenience. You don't have to worry about driving to the mall, asking someone at the store if they have something in your size or waiting in line to pay for your items. Everything is done right at your fingertips, saving you time and money. That's why it's no surprise that the idea of buying clothes online has become increasingly popular over the past decade.
So, if you're ready to join the online shopping revolution, keep reading to discover how to do it safely and efficiently. It's not as hard as you think – I promise!
Steps to Shop for Clothes Online
Shopping for clothes online is becoming more and more popular, but you might be wondering "where do I even start?". Well, never fear – here are some easy steps to get ya started on your online shopping adventure!
Find the Right Online Store: With so many stores out there, it's important to find one that's got the style you're looking for. Do a little research, read reviews, and find a store that fits the bill. Once you've found the perfect spot, it's time to create an account.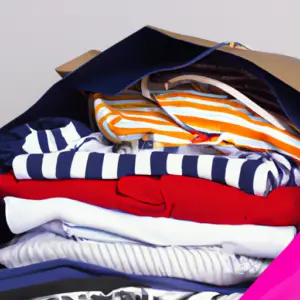 Create an Account: Most stores will let you create an account with ease – just fill in the required info and you're good to go. With an account, it's much easier to save items to your cart, track orders, and keep tabs on reward points.
Understand Sizing Charts: This is where things can get tricky. Different stores have different sizing charts, so make sure you look at the exact measurements before you buy something. Don't be afraid to try something new – who knows, maybe you'll find a style that fits like a glove.
Choose Your Items and Add to Cart: Now that you know what size you need, it's time to pick out the pieces you want. Read the product descriptions to get an idea of fabric, material, unique details and more. If you're not feeling it, pop it back in the virtual rack and keep browsing.
Checkout: All that's left to do is three simple steps: enter your payment information, review your order and shipping address details, then hit submit! You'll be rocking your new threads before you know it.
Tips for Shopping for Clothes Online
When shopping for clothes online, you've gotta know the drill. From reading reviews to taking advantage of special deals, here are my top tips to consider when browsing for threads on the web.
First things first: research your chosen store before you buy. Make sure you're getting good quality and weren't taken in by a bargain-basement deal. A few quick Google searches should give you an idea on what customers think – don't just take the site's word for it!
One huge advantage of buying online is the range of sales and discounts available. So keep your peepers open for any sales that could get you a better bang for your buck. But make sure you read the small print! You don't want to be caught out with any hidden charges.
Then there's shipping costs. Weigh up if you'd be better off spending more money upfront and saving on delivery, or dodging it altogether. Scout around for any free shipping offers – these can help keep your expenditure in check.
Conclusion
Shopping for clothes online has come a long way and it's now easier than ever to find the perfect fit and style. By following the steps outlined above, you can ensure that your online shopping experience is smooth and stress-free. Of course, there are always a few tips and tricks to take your online shopping game to the next level. Reading reviews, taking advantage of special deals, and considering shipping costs can all help you find the best value when shopping for clothes online. With these simple tips and tricks in mind, you'll be looking sharp and putting your best foot forward in no time!
Online Clothing Shopping FAQs
Which website is best for clothing?
When it comes to shopping for clothes online, there's no one-size-fits-all answer. It really depends on the type of clothing you're looking for, what style you're into, and of course, your budget. But one thing's for sure: the internet's got plenty of options.
If you're looking for the latest trends without breaking the bank, I'd recommend checking out sites like ASOS or Missguided. They've got tons of affordable options for everything from dresses to trousers to shoes. Plus, they frequently have sales and discounts.
If you're looking for something a bit classier and timeless, then I'd suggest looking at designer sites like Nordstrom or Neiman Marcus. They have a huge selection of high-end pieces – usually at a higher price point. But if you keep an eye out for sales and special offers, you may be able to find a few gems.
For more vintage-inspired looks, you can't go wrong with sites like Etsy or Poshmark. They feature unique, handmade items that can be difficult to find anywhere else. Plus, you can often find handmade pieces for a fraction of the price of something from a designer brand.
And then there are the all-encompassing sites like Amazon and eBay. If you don't have a specific site or brand in mind, these are great starting points. You'll find everything from basics to statement pieces, all at different price points. The downside is that it can be difficult to sift through the sheer number of options.
So, when it comes to shopping for clothes online, the best advice I can give is to make sure you do your research. Check out different sites and brands, compare prices, read reviews and, if possible, try things on before you buy them. That way, you'll be sure to find the perfect fit – literally and figuratively.
How do you shop online?
Shopping for clothes online can be an intimidating experience, but with some simple tips and tricks, you can make it a breeze! First, know your size. Shopping online involves lots of guesswork, so it's important to know your measurements. Measure yourself with a tape measure and jot down your numbers – chest, waist, hips, inseam, etc. – to compare to size charts for the perfect fit.
Next, be sure to read reviews. A lot of online stores feature client reviews, so be sure to check them out before buying anything. This will give you an idea of how the clothes fit and how people felt about the quality. It may also be helpful to check out the store's return policy – some stores may have time restrictions on when you can return things or may not accept returns at all.
Finally, take advantage of sales and discounts. Often, online stores offer deals and free shipping. Keep a lookout for these and don't forget to use coupon codes when available. Shopping online can be a great way to save money, as long as you know when to look for bargains.
So, get your measurements, read the reviews, and don't forget the discounts and you'll be well on your way to successful online shopping. Good luck!
What is the cheapest way to buy clothes?
The key to shopping for clothes online without breaking the bank is to look for sales, discounts, and other promotions. Many online retailers will offer deals throughout the year, so it's worth keeping an eye on their websites. Additionally, subscribe to the retailer's mailing list so you'll be among the first to see any special offers.
It's also worth considering membership-based websites, such as Amazon Prime, which charge an annual fee but give you access to exclusive discounts. Similarly, some retailers offer loyalty programs and/or rewards, which you might want to investigate. And, if you're not sure you'll be happy with your purchase, you should look for free returns.
Finally, don't forget to check out coupon and deal websites, like Groupon or Slickdeals. You never know when you'll find an amazing bargain!