What is Petite Women and Current Trends?
As a petite woman, I know all too well the challenges of finding clothing that fits properly. It seems like no matter what store you go into, nothing quite fits the bill. Luckily, there has been a newfound appreciation for the style needs of petite women and fashion designers have taken note!
Petite women need not worry anymore when it comes to shopping for new clothes. There are tons of on-trend looks from formal dresses to everyday streetwear, so whatever your style, there's an outfit perfect for you.
Sure, sometimes you might feel overlooked in the back of a long line of racks filled with regular sizes, but there's actually plenty of options out there – you just have to hunt for them! This guide will provide you with all the tips and tricks to stay on top of the latest trends while making sure everything fits perfectly.
What's On Trend for Petite Women?
As a petite woman, it can be hard to know what styles of clothing and accessories are on-trend. But fear not! I'm here to help with the latest scoop on what fashion trends will make you look fabulous.
When it comes to clothes, nothing beats a good fit—especially when you're petite. A few of my favorite go-to pieces include cropped leather jackets, wrap dresses, slim fit jeans, and peplum tops. These pieces flatter your frame and ensure you look trendy and sophisticated. You could even take it one step further by wearing two-piece sets that are both stylish and practical.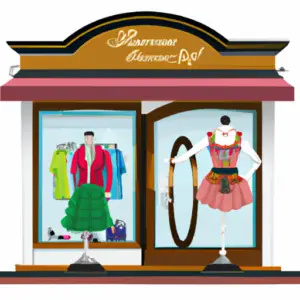 Don't forget about accessories! As you start working pieces into your wardrobe, think about what will add dimension and character to your look. Sure, an armful of bangle bracelets looks awesome, but consider more unexpected jewelery like layered necklaces, ear cuffs, or bold sunglasses. The more unique your style, the better. That's the beauty of fashion – it's all about expressing yourself!
How To Style the Latest Trends
The petite woman has to be a bit more mindful when it comes to styling the latest trends. There's nothing worse than feeling out of place in the latest trends, so here are some tips to help you stay on top of the game.
First things first, it's important to create a balanced look. You don't want to go overboard and end up looking like a clown. Pick one statement piece and pair it with some subtle pieces to make your outfit stand out without having too much attention.
Also, color is key. Not only does the right hue help bring out the best in your features, but it also projects a confident attitude. So, choose colors that reflect the mood and vibe you want to exude. Plus, opt for prints that are proportionate to your size, or else they'll overwhelm you!
Finally, keep comfort in mind. When it comes to fashion, if you're not comfortable, you won't look as stylish. So, as long as you feel good, you know you nailed it.
Tips for Shopping for Petite Women
I've got the hookup for all you petite ladies who are lookin' to refresh your wardrobe. Despite being vertically challenged, you can still rock the hottest trends with a few tips and tricks.
First thing's first: find the right fit. Large clothing items don't flatter shorter frames, so pay attention to size when shopping. And don't be afraid to try something on before making that purchase—nothing beats seeing how it fits in person.
Speaking of finding the right fit, invest in petite-specific stores. They cater toward the smaller side of fashion, offering the perfect pieces tailored to your height. Most of the time, you never have to worry about hems being too long or sleeves being too baggy!
The key is to shop smarter, not harder. With these tips in mind, you won't have to settle for just any basic outfit. Put 'em to use and slay the fashion game, girly!
Conclusion: All Things Considered, Petite Women Still Rock!
Well phew! After all that talk about trends and styling tips, it's time to wrap it up. And let me tell you – when it comes to petite women, it's still all good. Petite women can and should grace the world with their unique style. They needn't feel overwhelmed by trends; they have plenty of options to choose from, and they can tweak it all to make it just right.
And though fashion can be fickle, petite women can rock their look without fear. With the right attitude and a bit of experimentation, they can find their signature style and make it truly their own. After all, 'tis their prerogative, if ya know what I mean. As long as they wear it well and wear it with attitude, nothing can stop them. Keep up the good work, ladies!
FAQs: Fashion & Petite
How can I look good with a petite body?
As someone with a petite body, I know it can be hard to make a fashion statement in the crowd. But with a little effort and creative thinking, you can look your best and stand out from the rest.
First, avoid anything bulky or baggy as these will just make you look smaller. Instead, go for form-fitting clothes that will highlight your shape and curves. You can also add some texture, color, or pattern to make your look more interesting.
Second, learn to accessorize. Invest in a few pieces of jewelry, scarves, and hats that will add some personality to your outfit. Try wearing a belt to cinch your waist and show off your figure.
Finally, don't be afraid to try something that may not be your typical style. Maybe some bold statement earrings or a bright-colored blazer. Be brave and go for the unexpected. You'll be surprised at how good you can look!
What looks good on petite woman?
As a petite woman, I know how difficult it is to find the perfect ensemble. But, with the right advice, you'll be turning heads in no time! For starters, I'd recommend opting for narrower silhouettes like slim-fitting jeans, straight-leg trousers, and pencil skirts. These pieces will flatter your frame, and create the illusion of long and lean legs. You can also add dimension to an outfit with fun prints, like polka dots or bold stripes. Pair them with statement shoes, like ankle boots, mules, or kitten heels. They'll elongate your petite frame without making you look over-the-top. And finally, to really pull together a look, don't forget to accessorize – a wide belt and thin scarf will always flatter.
How to style a petite woman?
When it comes to styling a petite woman, I suggest utilizing fashion-forward pieces that emphasize her smaller frame. Avoid oversized and baggy clothing, as this can make her look lost in her clothes. Instead, opt for pieces that hug her body, or better yet, create a tailored look – this will draw attention to her natural curves and contours. That said, don't shy away from bold patterns and colors. With the right fabric, the right print can bring a petite figure to life. Separates, like blouses and skirts, also work well for petite women – adding height with heeled sandals and trousers with higher waistlines. And statement accessories, such as necklaces, scarves, and bold earrings, can have a transformative effect. Finally, if you want to be a real fashion maven, consider creating a layering look, accentuating her small frame with dimensions no longer than her shoulders.
latest trends for petite women
The latest trends for petite women are all about embracing your figure, but with a fresh, modern twist. From midi skirts to belted jackets and statement jewelry, there are plenty of looks to try if you're a petite woman who wants to stay on-trend. A crop top and high-waist jeans, for instance, are perfect for emphasizing your waistline and elongating your legs, while an off-the-shoulder blouse and long skirt will draw attention to your narrow frame.
When it comes to accessories, try going for eye-catching, statement pieces. Oversized earrings and bold necklaces are the perfect way to frame your face and add interest to a look. Plus, don't be afraid to experiment with color and pattern. Floral prints and bright colors can help to create a flattering silhouette, while a pair of strappy sandals will give your outfit an extra dose of style.
Finally, don't forget to invest in the right size. Petite sizes should fit your body perfectly, not just look like it's been slightly altered from a regular size garment. Proper tailoring is key and the right fit can make all the difference to your look. So go ahead and embrace your petite figure – because if there's one thing we've learned over the past few years, it's that petite frames can be positively chic.