Affordable Maternity Clothing Where to Shop
Yo, Mama! Let's Shop for Affordable Maternity Clothes
Hey there, expectant mamas! As someone who has been through the maternity clothing shopping experience, I understand how daunting and frustrating it can be to find stylish and comfy clothes that don't break the bank. That's why I've put together this blog post to share some valuable tips and tricks to help you shop for affordable maternity clothes. Trust me, I've got your back!
Before we dive into the nitty-gritty of bargain hunting, let me tell you the purpose of this blog post. My goal is to help you navigate through the overwhelming options that maternity clothing stores offer, and to give you some reliable advice to make the most from your budget while still looking fabulous throughout your entire pregnancy.
And hey, if you'd like more in-depth advice and resources on maternity shopping, check out Leah's blog post here. She's a seasoned mama and a confident fashionista who shares my passion for helping moms-to-be get their maternity wardrobe sorted.
What to Consider When Scouting for Budget-Friendly Maternity Clothes
Before I found out I was pregnant, I was always hunting for the best deals when it came to clothes, and that didn't change at all when I started looking for maternity wear. But with a baby on the way, I knew that I couldn't scrimp on quality and that I had to be smart about sizing. Here are some tips on what to look out for when snapping up affordable maternity clothing: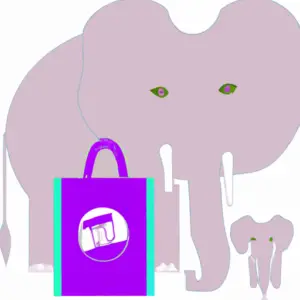 Quality of Fabric
The last thing you want is for your maternity clothes to start falling apart at the seams before your baby even arrives. That's why it's important to scrutinize the fabric quality of every piece of clothing that you buy. Avoid stretchy materials that sag over time, and instead, opt for soft, breathable fabrics that will keep you comfortable during your pregnancy.
Size and Fit
It's critical to make sure that your maternity clothes fit just right. Clothes that are too tight can put unnecessary pressure on your growing tummy, while clothes that are too loose won't offer enough support. When shopping, always try on your clothes to get an accurate sense of how they'll fit throughout your pregnancy, and keep in mind that you may need to size up as your belly expands.
Seasonal Sales
Seasonal sales can be a godsend for any mom-to-be on a budget. Look for deals on clearance items or end-of-season sales that can save you up to 70 percent off the original retail price. Joining loyalty programs can also give you access to exclusive discounts and rewards.
Score the Best Deal: Tips on Finding Affordable Maternity Clothes
Now that we've covered what to look for when shopping for maternity clothes, let's move on to where to find them. Here are my top tips for finding affordable maternity clothing without breaking the bank:
1. Online Shopping
One of the best places to find affordable maternity clothing is online. Not only can you compare prices easily, but you can also find a wider selection of styles and sizes. Some of my go-to websites for maternity clothes include ASOS, H&M, and Old Navy. Be sure to sign up for their email lists to stay updated on any sales or promotional codes.
2. Thrift Stores
Don't overlook thrift stores when searching for maternity clothes. You never know what hidden gems you may find. Plus, the prices are usually much lower than traditional retail stores. Keep in mind that some thrift stores have a designated maternity section, while others may have the clothing mixed in with regular items.
3. Swap Meets
Another great option for finding affordable maternity clothing is attending local swap meets or clothing exchanges. These events allow you to trade in clothes you no longer need for ones that fit your current needs. Check your community events calendar or Facebook groups to see if any are happening near you.
By following these tips, you can save a ton of money on maternity clothing without sacrificing style or comfort. Happy shopping!
Wrapping It Up: Tips for Finding Affordable Maternity Clothing
Well folks, that's all she wrote. In this post, we've covered a lot of ground when it comes to finding affordable maternity clothing. I hope you've found the information helpful and will be able to put it to good use.
In summary, we discussed how important it is to consider the quality of the fabric, the right size and fit, and seasonal sales when shopping for maternity wear. We also shared some tips for where to find affordable options, including online shopping, thrift stores, and swap meets.
Remember, just because you're pregnant doesn't mean you have to break the bank to find clothes that fit your growing body. Be sure to shop around and take advantage of all the resources available to you.
If you have any additional tips or suggestions for finding affordable maternity clothing, please share them in the comments below. Happy shopping!