Breaking the Bank: Fabulous Fashion on a Budget
How many times have you seen a fashion item that you just had to have, only to check the price tag and realize it was way outside your budget? I know I have! But that doesn't mean you have to give up on your fashion dreams or go into debt just to look good. In this blog post, I'll be sharing my tips and tricks for dressing fabulously without breaking the bank.
Get the Look for Less: My Best Tips for Dressing on a Shoestring Budget
As someone who loves fashion but doesn't have a trust fund, I've gotten pretty good at finding stylish clothes and accessories without overspending. Here are some of my most reliable strategies for dressing well without breaking the bank.
Hit Up Thrift Stores for Hidden Gems
Thrift stores are truly a fashion gold mine. You never know what treasures you'll find, from vintage leather jackets to designer brand jeans to funky statement jewelry. And the prices? A fraction of what you'd pay at a department store or boutique. To make the most of your thrift store trips, go in with an open mind, be prepared to do some digging and try on items you might not normally consider. And always keep an eye out for sales or clearance sections.
Shop Online for Deals and Steals
One major benefit of online shopping is the ability to quickly compare prices and find discount codes. Before making a purchase, do a quick search for promo codes or coupons that can save you money on your order. Also, check out flash sale websites that offer name-brand items at steep discounts. And don't forget to sign up for email newsletters from your favorite retailers; they often include exclusive sales and discounts for subscribers.
Get Creative with DIY Clothing and Accessories
DIY fashion is not only budget-friendly, but it's also a great way to create unique, one-of-a-kind pieces that reflect your personal style. Take a pair of scissors to an old t-shirt for a cropped top or experiment with fabric paint on a plain tote bag. You can also upcycle thrifted items to make them more wearable or up-to-date. And there are plenty of resources online, from YouTube tutorials to Pinterest boards, that offer inspiration and guidance for DIY fashion projects.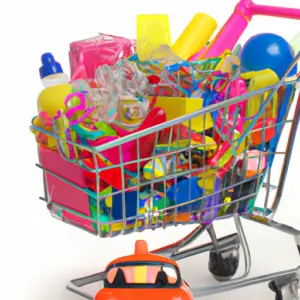 Looking great doesn't have to mean spending a fortune on high-end cosmetics and salon services. Instead, invest in a few quality, versatile beauty products (like a multitasking BB cream or a neutral eyeshadow palette) that you can use in multiple ways. You can also save money by reusing empty makeup containers or swapping gently used items with friends. And be sure to take advantage of free beauty samples from department stores or online beauty retailers.
By following these tips, you can rock the latest fashion trends without maxing out your credit card. Remember that style is about expressing your individuality and creativity, not about buying expensive designer items. Happy shopping!
Get Crafty: Creating Your Own Fabulous Clothing and Accessories on a Budget
When it comes to fashion, I love finding unique pieces to add to my wardrobe. However, I don't love the price tag that often comes with those pieces. That's why I've started getting crafty and creating my own clothing and accessories on a budget. Here are some of my favorite tips and tricks for making one-of-a-kind items without breaking the bank.
Upcycling Old Clothing
One of the easiest ways to create new clothing without spending a ton of money is to upcycle old pieces that you already have. This could mean cutting up a t-shirt to turn it into a crop top, adding patches or embroidery to jeans, or even combining two different items to make a whole new piece. I love scouring thrift stores for items to upcycle, but you can also use things you already own!
Crafting Accessories
Accessories are a great way to add some flare to any outfit. And with a little bit of creativity, they're also incredibly easy to make at home. I love making my own jewelry, whether that's by stringing beads onto a cord or using wire to create a unique design. You can also make your own headbands, scarves, and even purses.
Finding Tutorials Online
If you're not sure where to start when it comes to crafting your own clothing and accessories, don't worry! There are plenty of tutorials available online to guide you through the process. I love searching on YouTube and Pinterest for inspiration and step-by-step guides. You can even find online communities dedicated to crafting and DIY fashion.
Creating your own clothing and accessories is not only budget-friendly, but it's also a fun and rewarding way to express your personal style. So next time you're tempted to break the bank on a new outfit, try getting crafty instead!
Keep it Glam Without Breaking the Bank: My Expert Hair and Makeup Tips
Hey ladies! As a budget-conscious gal, I know how hard it can be to afford high-end beauty products. Lucky for us, there are plenty of ways to look stunning without spending a fortune. Here are my tried-and-true tips for maintaining fabulous hair and makeup on a budget.
Invest in Quality Products
When it comes to beauty products, quality is key. While it can be tempting to go for the cheaper options, investing in high-quality products can actually save you money in the long run. Quality products are more effective and often last longer than cheaper alternatives, meaning you won't have to keep re-purchasing as often.
Trust me, ladies, investing in a good flat iron or hairdryer will do wonders for your locks. And don't skimp on skincare – investing in a good moisturizer can help prevent wrinkles and keep your skin looking youthful.
Reuse Your Makeup Items
Contrary to popular belief, you don't need a separate mascara for every day of the month. By reusing your makeup items, you can save yourself a bundle. For example, if your mascara is starting to dry out, try adding a few drops of saline solution to extend its life.
And don't toss those empty eyeshadow palettes just yet! You can easily repurpose them by filling them with new, individual eyeshadows or even lipsticks.
Take Advantage of Beauty Samples
Have you ever walked by a beauty counter and been handed a free sample? Take it! Beauty samples are a great way to try out new products without committing to a full-sized purchase. Plus, you can often get samples with your online orders or by signing up for beauty box subscriptions.
Don't be afraid to ask for samples, too. If you're unsure whether a product will work for you, ask an associate if they have any samples you can take home. It never hurts to ask!
So there you have it, ladies. With these tips, you can maintain a glam look without breaking the bank. Don't be afraid to invest in quality products, reuse your makeup items, and take advantage of beauty samples. Happy budgeting!
It's Possible to Look Fabulous without Breaking the Bank!
Well, folks, that's it! Follow these simple tips and tricks, and you'll always look fashionable without spending a fortune. Remember that shopping at second-hand stores can lead to hidden treasures, and that you may be able to find gems at discounted prices online. Don't be afraid to take some time to craft accessories or upcycle old clothing to save money.
And don't forget about maintaining your fabulous hair and makeup! Invest in high-quality products that will last longer and reuse old makeup items. Beauty samples are another great way to try out new products on the cheap.
I hope that you found the advice in this blog post helpful. Keep shining, everybody! And if you're looking for some affordable formal wear for your next special occasion, check out this article from Lovely Life of Leah: Affordable Formal Wear for Special Occasions.