Styling Neutrals A Comprehensive Guide
Why Neutrals are the Ultimate Style Secret Weapon: My Expert Guide
Hey there! Let's talk about neutrals. You might think they're boring and lack personality, but that's where you're wrong. As a fashion expert, I've learned that neutrals are actually the ultimate style secret weapon. So, what exactly are neutrals? They're colors like black, white, beige, gray, and navy that blend in with other colors and don't grab the attention of the eye. Intrigued yet?
Wearing neutrals comes with a whole host of benefits. Firstly, they're timeless and always in style, meaning they'll never go out of fashion. Secondly, they're versatile and can be worn in a multitude of settings. Need to dress up for an interview? Neutrals have got you covered. Heading out on a casual weekend day? Neutrals are perfect for that too. Additionally, neutrals allow you to build a capsule wardrobe, which is a limited collection of clothes, making getting dressed each day effortless.
What to Wear: The Ultimate Guide to Neutrals
Okay, so you want to rock neutrals? Great choice. Neutrals are always in fashion. They're timeless, versatile, and can be worn year-round. But what exactly should you wear when it comes to neutrals? Here's my ultimate guide to what to wear:
Tops:
When it comes to tops, stick to shades like white, beige, gray, black, and navy. These colors work wonders for creating a seamless, polished look. Choose tops that flatter your shape, like a V-neck sweater or a fitted blouse. Looking for something more casual? A simple white tee or a neutral-colored tank top is always a good choice.
Bottoms:
Your options for neutral-colored bottoms are endless. A pair of black skinny jeans or beige chinos can never go wrong for any occasion. Want to make a statement? Try a pair of leopard-print or snakeskin pants in neutral tones.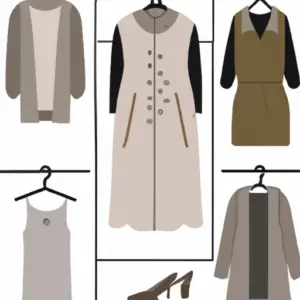 Don't let your shoes ruin your neutral game. Opt for footwear in classic neutrals like black, brown, or nude. If you're feeling bold, add a pop of color to your outfit with a pair of red or cobalt blue shoes for a fun and stylish twist.
Basically, when it comes to neutrals, stick to classic staples and avoid trendy pieces. You can never go wrong with timeless silhouettes and understated shades that work together seamlessly. So go on and experiment with a neutral wardrobe, the outfit possibilities are endless.
Accessorizing Neutrals: The Ultimate Guide
Alright, now that you've got your neutral outfits down pat, let's talk about accessorizing them. This is where you can really show off your personal style and make your outfits pop. Here are some tips and tricks to help you take your neutral outfits to the next level.
Jewelry: When it comes to jewelry, there are a few different directions you can go in. You could opt for simple and understated pieces, like a delicate gold necklace or stud earrings, or you could go bold with chunky statement jewelry. A pop of color can also be a great way to add interest to a neutral outfit.
Bags: A neutral outfit is the perfect canvas for a standout bag. You could rock a bright and bold bag to add some color to your look, or go for a classic black or brown leather bag for a more timeless feel. Remember that your bag doesn't have to be the exact same color as your outfit – in fact, a contrasting bag can create a really cool and unexpected look.
Hats: Don't underestimate the power of a good hat. Whether you're into beanies, baseball caps, or wide-brimmed hats, there's a hat out there that will take your neutral outfits to the next level. Don't be afraid to mix and match different styles – you might be surprised at how well they work together.
Remember, the key to accessorizing neutrals is to have fun with it and experiment. Don't be afraid to try new things and step outside of your comfort zone. Who knows – you might just discover a whole new side of your personal style that you never knew existed.
Outfit Ideas with Neutrals
As a lover of neutrals, I'm excited to share some outfit ideas you can try. Whether you're going for business casual, date night, girls' night out, or weekend casual, neutrals are perfect for any occasion.
Business Casual
For a professional yet stylish look, try wearing a white blouse tucked into black trousers. Add a black blazer and nude heels for a classic touch. Don't forget to accessorize with a simple necklace and stud earrings. If you're feeling a bit edgy, try swapping out the black trousers for faux leather leggings. Check out Lovely Life of Leah's styling tips for monochrome outfits to take your business casual outfit up a notch.
Date Night
For a romantic evening out, opt for a beige slip dress paired with black heels and a cropped denim jacket. Accessorize with a delicate gold necklace and a black clutch. If you want to add some drama, try a bold red lip. Your significant other won't be able to take their eyes off of you.
Girls' Night Out
For a fun and flirty look to hit the town with your girls, wear a black bodysuit tucked into high-waisted light wash jeans. Pair with black ankle boots and a black leather jacket. Accessorize with a colorful statement necklace and a metallic clutch. You'll be the life of the party.
Weekend Casual
For a relaxed and comfortable weekend outfit, throw on a white oversized t-shirt paired with black bicycle shorts. Add a denim jacket and white sneakers for a casual look. If you want to add a pop of color, try a bright yellow scrunchie to hold back your hair. You'll be ready for anything the weekend throws at you.
With these outfit ideas, you'll be sure to slay in neutrals for any occasion. So go ahead and add some neutrals to your wardrobe for ultimate versatility.
Final Thoughts on Neutrals: My Ultimate Guide
Well, folks, that concludes my ultimate guide to wearing neutrals. I hope you found it helpful and informative, and that you're now feeling more confident in your ability to rock these timeless shades. Remember, neutrals don't have to be boring or predictable – with the right styling, they can be just as eye-catching and stylish as any bright hue or bold pattern.
If you're still feeling unsure about how to incorporate neutrals into your wardrobe, don't worry – it takes practice and experimentation to find out what works for you. Start small with a neutral accessory or basic piece, and work your way up from there. Don't be afraid to mix and match different shades of neutral tones, like beige, taupe, and grey, for added depth and texture.
And finally, don't forget to inject your own personal style and flair into your outfits. Whether it's a trendy statement accessory, a bold lip color, or a quirky patterned shoe, adding a touch of your unique personality can take a neutral look from drab to fab in no time. So go forth and conquer those neutrals with confidence!
Thanks for reading, and until next time, happy styling!