Styling Monochrome Outfits for Any Occasion
Let's Dive into Monochrome Fashion:
Hey there, fashion lovers! I'm excited to talk about monochrome fashion, a trend that never goes out of style. Monochrome is all about creating an outfit using different shades of the same color. It's a simple and sophisticated way to dress up without putting in too much effort. Monochromatic fashion allows you to showcase your personality through the various colors available, making it fashionable and versatile.
Whether you're trying to keep it simple and elegant or want to switch up your style with fresh and bold color schemes, there's always a way to incorporate monochrome into your fashion choices. In this blog post, we'll dive into the different colors to wear, outfit ideas for both men and women, accessories that would pair perfectly with your monochrome outfit, and tips for pulling it off.
So, get ready to explore one of the most timeless fashion trends that will turn your wardrobe around. Whether you're a fashion enthusiast or new to the game, I assure you that by the end of this blog post, you'll be a pro at styling monochromatic outfits and nailing this trend with ease!
What in the World is Monochrome?
Okay, let's talk about the basics. Monochrome is a style that utilizes only one color in an outfit. Yes, you read that right – just one color. This doesn't mean that your outfit needs to be only black, white or gray, though. You can choose any color you want as long as it is the only color featured in your outfit.
For instance, if you want to create an all-blue monochrome look, then you have to find different shades of blue that complement each other and make sure to wear only those shades in your outfit.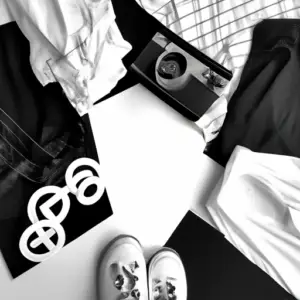 When I first heard about this style, I thought it sounded silly. I mean, why would anyone want to wear an outfit that only features one color? But once I saw some of the creative and stylish outfits people were putting together, I was sold.
Get Creative with Colors to Wear
Monochrome outfits don't always have to be black and white. I like to experiment with different colors within the same color family. For example, shades of brown or green can make for an interesting monochrome outfit. Don't be afraid to mix it up!
Another trick I like to use is to add a pop of color with my accessories. If I'm wearing a monochrome outfit, I'll choose a bright pair of shoes or a colorful bag to add some visual interest.
When it comes to choosing colors for your monochrome outfit, consider the occasion as well as your personal style. For a more subtle look, stick with neutrals like grey or navy. If you're feeling bold, try a bright red or deep purple.
Remember, there are no hard and fast rules when it comes to monochrome outfits. Experiment, have fun, and wear what makes you feel confident.
Outfit Ideas: Dressing Up in Monochrome
When it comes to monochrome fashion, the possibilities are endless. Working with a single color may appear dull to some; however, playing with the tones and textures of the same color can create a stunning look of sophistication and allure. Let me share some outfit ideas that can help you pull off the monochrome trend effortlessly.
For Men
For a stylish and simple look, start with black or white jeans and pair it with a solid-colored button-up shirt. If you want to shift to a darker shade, you can opt for a black denim jacket to complete the look. Another idea is to go for a monochrome streetwear look by layering a black hoodie with a long black coat. You can complete the outfit with a pair of black sneakers.
For Women
Ladies, you can never go wrong with a black dress in any season. You can add interest to this classic piece by layering it with a black jacket or a long black coat full of character. You can also try a black cropped top and high-waist tailored pants to celebrate your waistline while keeping it classic. On a warmer day, a white romper or jumpsuit could be a refreshing take on monochrome fashion.
Accessories
Accessories complete the monochrome outfit. Instead of going bold with colors, stick with subtle accessories like a black belt, a white handbag, or neutral-colored jewelry. A black leather watch or belt could provide the perfect accent without drawing attention away from your monochrome outfit. For a touch of edginess, consider a pair of black ankle boots or white sneakers.
Tips for Pulling it Off
To pull off the monochrome look, play with different textures and shades to add depth and dimension to your outfit. Don't be afraid to experiment with different tones of the same color. Be wary of matching prints and patterns, as it can be too overwhelming and defeat the purpose of monochrome. Also, consider the occasion you're dressing up for – monochrome could be perfect for a formal event that requires a dress code or an evening out with friends.
With these ideas in mind, wearing monochrome no longer seems like a daunting task. It's not only easy to pull off, but it's also timeless and elegant. Get creative and explore the many ways of styling monochrome outfits. With the right style and attitude, you'll look and feel like a fashion icon.
Accessories: The Key to Nailing the Monochrome Look
Alright, people, let's talk accessories! It's safe to say that accessories make or break any outfit, and this is especially true when it comes to monochrome looks. Since we're working with a single color palette, accessories play a vital role in adding dimension and interest to our outfits. Here are some tips for accessorizing your monochrome look:
Mix Textures
When working with monochrome, mixing textures is key. Adding different textures to your outfit can create depth and interest, preventing your look from falling flat. For example, if you're wearing all-black, you could add a leather bag, a cotton scarf, and suede boots to add some variation.
Play with Metallics
Metallic accessories are a great way to add some shine and contrast to your outfit. Silver, gold, and copper tones work well with most monochrome looks and can be incorporated in jewelry, bags, shoes, or belts.
Pop of Color
If you want to break up a monochrome look, a pop of color may be just what you need. A bright scarf, handbag, or pair of shoes can add a touch of personality and interest to any outfit. Just remember to keep the color minimal. We're going for monochrome here, after all.
Don't Forget the Details
Accessories aren't just limited to jewelry, bags, and shoes. Don't forget that details like belts, hats, and even socks can add a lot of character to an outfit. Opt for belts with unique buckles, fedoras or beanies, and printed socks to give your monochrome look that extra oomph.
Pair with Neutral Accessories
If you're afraid to go all-out with accessories, neutral accessories are a safe bet. Black, nude, and gray shoes, handbags, and belts won't steal the focus from your monochrome outfit but will still add some variety and interest.
There you have it, folks! By following these tips, you'll be well on your way to nailing the monochrome look with some killer accessories.
Tips for Pulling it Off
Alright, let's get real here. Monochrome outfits aren't for everyone. But if you're brave enough to try this timeless and bold look, then listen up. Here are my tips for pulling off this style:
First things first, start with a neutral color. Black, white, grey and navy are my go-to shades. Choose a base color and stick to it. This is the foundation of a monochrome outfit.
Next, try mixing textures. For example, wear a soft cotton t-shirt with a leather jacket or a silky blouse with a wool skirt. The different textures will add depth and interest to your outfit.
Accessories are key to breaking up the monotony of an all-black outfit. Choose one statement piece like a chunky necklace or bold earrings. Or add a pop of color with a bright handbag or shoe.
Now, let's talk tailoring. A well-fitting outfit is a must for pulling off monochrome. Make sure your clothes fit properly and don't look too loose or too tight.
Lastly, have confidence! This look is all about making a statement and being bold. So own it and don't be afraid to stand out.
So, there you have it. My tips for pulling off monochrome. Remember to choose a neutral color, mix textures, accessorize, tailor your clothes, and most importantly, have the confidence to rock this look. Go forth and make a statement in style!
The Bottom Line: Time to Rock the Monochrome Look!
In conclusion, I hope this guide has been helpful in giving you ideas for styling a monochrome outfit. Remember to be creative and have fun with your clothing choices. Monochrome doesn't have to be boring!
When planning your outfit, consider the colors that look best on you and choose shades that complement your skin tone. Experiment with textures and materials to add depth and interest to your outfit.
For men, go for a casual and relaxed look with denim and an oversized sweatshirt in the same color scheme, or dress it up with a three-piece suit in black or white. Women can wear a monochrome jumpsuit or a sleek dress in one color, and break it up with statement jewelry and shoes that pop.
Accessories are key to pulling off a monochrome look. Use them to accentuate your outfit and add contrast. Try a bold scarf or hat, a colorful purse, or statement shoes.
To pull off the monochrome look, keep it simple and minimalistic. Avoid prints, and instead play with different textures and shapes. Use layering to add dimension and interest to your look.
In summary, monochrome is a classic and timeless look that anyone can pull off. Remember to be bold and experiment with your outfit choices, and you'll be sure to turn heads.
FAQs on Monochrome Outfits
How do you get a monochromatic look?
Well, let me tell you, achieving a monochromatic look can be a total game-changer for your fashion sense. To get started, you'll want to choose a color that you feel comfortable in and suits your skin tone. Once you have your main color, it's time to go all out – this means choosing pieces that are the same color or within the same shade range.
I suggest mixing textures to add depth and keep the outfit from looking flat or boring. For example, a cotton shirt paired with denim jeans and a leather belt would create a subtle visual interest. Additionally, accessories such as belts, bags and shoes in a contrasting color can take your monochrome look to a whole new level.
But, be warned, there is such thing as too much of a good thing. If your outfit is too matchy-matchy, you risk looking like a human-sized crayon or a walking billboard. So, try to avoid overaccessorizing or wearing the exact same shade head-to-toe. Lastly, don't forget to experiment with different hues, tones, and shades of your chosen color. A black outfit can vary greatly from charcoal, slate, ebony, or jet black.
In short, choosing a color that suits you, mixing textures, adding contrasting accessories, and experimenting with shades can create a killer monochrome outfit. Remember, balance is key, and you don't want to end up looking like a cartoon character. So go forth and rock that monochromatic look with confidence!
Is a monochrome outfit good?
Oh my gosh, monochrome outfits are the bomb! They're simple yet super chic! I absolutely adore them! But let me give you the low-down on how to rock a monochrome outfit. Trust me, you don't want to be caught looking like a blob of the same color.First things first, make sure that your outfit piece is the same color from head to toe. That means you have to pick one color and stick to it. I'm telling you, this is the most critical rule of rocking a monochrome outfit!Next, try to add some dimension to your outfit. You don't want to blend in and look flat. So, you can add texture by layering the same color but with different fabrics and patterns. For instance, you can style a white silk blouse with white denim jeans, twill jacket, and white leather shoes to show contrast and texture.Thirdly, try to accessorize with a pop of color. Yes, I know, you're thinking but isn't this supposed to be a monochrome outfit? Adding a pop of color like a red clutch or statement earrings can highlight your outfit and give it some dimension.Lastly, confidence is key. Rocking a monochrome outfit is all about owning your style and wearing it with confidence. Don't be afraid to wear what makes you feel amazing!In conclusion, a monochrome outfit is a great fashion statement as long as you stick to one color, add texture, accessorize with a pop of color, and wear it with confidence. Trust me, you'll be looking like a fashionista in no time!
Why wear monochromatic outfits?
Well, let me tell you – wearing a monochrome outfit can be super chic and on-trend! Plus, it's an easy way to look put together without having to spend too much time in front of the mirror deciding what to wear. By sticking to one color, you create a visually cohesive look that is both stylish and professional. Not to mention, it can make you appear taller and slimmer, especially if you choose a darker shade like navy or black. Trust me, once you start wearing monochromatic outfits, you won't want to go back.
First things first, choose a color that works for you. If you're not sure which color to go for, consider neutral tones like beige, grey, or white. These colors are easy to work with and can be easily dressed up or down. If you're feeling bolder, go for a bright hue like red or yellow.
Once you've chosen your color, select pieces in different shades and textures. This will add depth and interest to your outfit, preventing it from looking too flat. For example, if you're wearing all black, mix leather pants with a cotton turtleneck and a wool coat.
Accessories can be your secret weapon when it comes to monochrome dressing. A colorful scarf or statement necklace can add a pop of color and break up the monotony. Alternatively, choose accessories in the same color family as your outfit for a more streamlined look.
Don't forget about shoe choice. Matching your shoes to your outfit can elongate your legs and make you appear taller. If you're wearing a midi or maxi skirt, opt for heels to create a balanced silhouette.
In summary, wearing monochrome outfits is a stylish and easy way to look put together. Choose a color that works for you and mix textures and shades to prevent the outfit from looking too one-dimensional. Add accessories and opt for shoes that elongate your legs for a flawless finish. Trust me, you'll be turning heads in no time.
how to wear monochrome outfits
Okay, so let's talk about how to wear monochrome outfits. Personally, I love monochrome looks because they always look effortlessly chic.
To start, choose a color that suits your skin tone and the occasion. Black, white, and gray are safe bets for any event, while brighter colors are perfect for daytime events. Remember, monochrome doesn't always have to be boring and neutral.
Next, play with textures and shades to add depth and interest to your outfit. For example, pair a silk top with leather pants or a cashmere sweater with denim. Mixing textures can elevate any monochrome look.
Accessories are also crucial when it comes to monochrome outfits. To make a statement, add a pop of color with your bag, scarf, or shoes. If you prefer to keep everything in the same color family, try different shades and textures.
Lastly, be confident. Monochrome outfits are easy to pull off when you wear them with confidence. Wear what makes you feel comfortable, and don't be afraid to take risks and try new things. Remember, fashion is about having fun and expressing yourself.