Style Up Your Wardrobe at Local Boutiques
The Joy of Shopping at Local Boutiques
Hey there! Have you ever experienced the joy of shopping at a local boutique? 'Cause let me tell ya, it's like no other experience. The curated selection of items is unbeatable, the quality is top-notch, and it ain't gonna break the bank either. Think of it as your one-stop shop for all things stylish.
At a local store, you don't have to worry about being bombarded with countless racks of clothing that look exactly the same. These boutiques offer special items that you won't find at your average store. Plus, because the items are so unique you can feel good knowing your gonna rock something totally different than everyone else on the block.
Aside from the unique items, the quality of clothing at a local boutique tends to be higher than what you would find at a larger retailer. This means they last longer, plus they look and feel better too. Not to mention, most of the time the prices are gonna be much more reasonable than their counterparts elsewhere.
So if you're sick of blending in with the crowd and want to stand out with something special, then you gotta check out your local boutiques. You won't regret it!
Finding the Perfect Boutique
It can be tricky to find a boutique that meets all your shopping needs. You'll want to make sure you get quality clothing, a range of styles, and affordable prices all in one spot. To help, here are some tips on how to locate a great local boutique.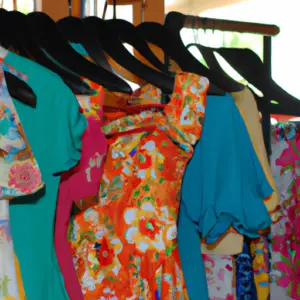 Doing your research is key. Check out online reviews to get an idea of how well-liked a store is. See what people are saying about their buying experience. Don't forget to ask around too; your friend might know a super cute boutique right around the corner!
Once you've narrowed down your search, it's time to hit the pavement. It's good to keep an eye out for certain features when you take a visit. For starters, pay attention to the quality of the items – do they look like they'll last or will they start to fray after one or two washings?
Also, make sure there are plenty of choices. Even if you have a particular style in mind, having other options available is always nice. And let's not forget affordability! Many boutiques offer designer-quality pieces at less-than-luxury prices, so definitely shop around for the best deals.
What to Look For in a Boutique
When shopping at local boutiques, it's important to know what to look for. After all, how else are you gonna find that perfect piece?! Here are my top tips to make sure you get the best bang for your buck.
First off, always check the quality of the clothing. You don't want something that's gonna fall apart after a few wears! If you're going for more luxurious pieces, feel the fabrics and see if they look like they'll last. On the other hand, if you're opting for something casual and affordable, make sure it's not too thin or flimsy.
Next up is range of styles. Let's face it – there's no use browsing through a store full of items you don't like. Go somewhere that offers a variety of looks, so you can mix and match different trends. From classic silhouettes to modern must-haves, you should be able to find something to suit your style.
Last but not least, don't forget to keep tabs on the prices! Even if a boutique has amazing clothes, you may not be able to afford them. Do some research ahead of time to figure out what their prices tend to be like, and make sure you stay within your budget. When you find something you like, always double check the tag before bringing it home.
Popular Boutiques Around the Country
From bustling cities like New York and Los Angeles to Midwest charm in Chicago, each area has its own unique boutiques that should be experienced if you're looking for some local flavor. From the chic vintage stores of the Big Apple to the always trendy boutiques of the Windy City, there's something special out there for even the most discerning fashionistas.
New York City is known for its vibrant nightlife, busy streets, and fashionable spirit, so it's no wonder that there are plenty of boutique choices here. Whether you're looking for something vintage or a hipster-inspired look, NYC has it all. Notable places to check out include Bird, which offers a wide selection of clothing from independent labels and up-and-coming brands, as well as the renowned Murray Park and Gabay & Gottlieb Clothing Store.
Los Angeles is another city where fashion reigns supreme—in fact, designers flock to LA to launch their latest collections. Trendsetters love shopping at the likes of Wasteland and Quartier 206, both of which have an eclectic mix of designer items, accessories and must-have streetwear. For something totally different, head over to the Melrose Trading Post, an outdoor marketplace with tons of collectibles, antiques and one-of-a-kind clothes.
If you're strolling around the Windy City of Chicago, don't miss out on standout spots like UNIS, which specializes in classic, tailored menswear pieces; Una Mae's, for a great selection of vintage finds; and Akira for contemporary woman's apparel at super-affordable prices. A walk down North Halsted Street will also yield a ton of results, with hotspots such as Forever21 and D.A.S. popping up every few blocks.
Conclusion
Shopping at local boutiques is the way to go for fashion-savvy shoppers looking to stand out from the crowd. You don't have to sacrifice quality or affordability either. Whether you're hunting for unique pieces from New York City, one-of-a-kind items from Los Angeles, or clubwear from Chicago, there's a boutique out there waiting to be discovered. But before you pull out your wallet, do some research to make sure you're getting the best deal. Ask people you trust for recommendations and read up on customer reviews. Get out there and explore all that these independent retailers have to offer. With enough effort, you'll be the envy of your street.
FAQs: Fashion Boutiques
What street has designer shops in Amsterdam?
The P.C. Hooftstraat is the best place to find designer shops in Amsterdam. With designer boutiques from the likes of Gucci, Louis Vuitton, Chanel, Prada and Dolce & Gabbana, I can assure you that fashion lovers won't be disappointed. If you're looking for the latest trends, you can't go wrong here. Additionally, if you're after something timeless and classic, the P.C. Hooftstraat has plenty of options for that, too. Whether you're after designer labels or high-end fashion, you're sure to find something that suits you.
Plus, the street has a range of stylish cafes and restaurants that are perfect for a break between shopping sprees! The stylish street is also well-known for its luxury jewellery and watch shops and art galleries. What's more, the street is a great place to find unique and stylish accessories to complete your outfit. So if you're looking for a full fashion experience, the P.C. Hooftstraat is definitely the place to be.
Where can I find unique pieces of clothing?
If you're a fashion lover looking for unique pieces to add to your wardrobe, I've got the perfect places for you. From local boutiques to online stores, there's no lack of options out there.
First off, you can't beat good ol' fashioned brick-and-mortar stores. Not only are you able to try the clothes on, but some stores have stylists that can help you design the perfect look for any occasion. Plus, you have the opportunity to talk to real people and get their expert advice, which can be invaluable when it comes to fashion.
Local boutiques are another great option for fashion lovers. Many local stores have limited-edition items and one-of-a-kind pieces. You're sure to stand out from the crowd when you wear something unique.
Finally, don't forget about online shops. You can find some really great clothing there, especially if you take the time to do some research. You can even get custom-made pieces that are tailored specifically to your style and preferences.
No matter where you shop, the key is to be creative and be willing to experiment. Don't be afraid to mix and match different pieces to create a unique look. That's the beauty of fashion: there are no rules, so get out there and express yourself!
Is Amsterdam good for luxury shopping?
If you're looking to shop 'til you drop in Amsterdam, the answer is a definite yes! Known as one of the fashion capitals of Europe, the city offers up-and-coming designers, luxury boutiques, and classic pieces. Whether you're a fashionista or a bargain hunter, you're sure to find something to your liking. To get the most out of your shopping experience, try visiting the Nine Streets, a must-visit area for any fashion-forward shopper. Here, you'll find unique boutiques selling everything from high-end designer clothing to vintage pieces, accessories and jewelry. And for the bargain hunter, be sure to check out the Bijenkorf department store, where you can snap up designer items at discounted prices.
For an extra special experience, head to the P.C. Hooftstraat, one of the city's most exclusive shopping districts. Here, you'll find couture from the world's biggest designer names such as Gucci, Louis Vuitton, and Chanel. Plus, there are plenty of galleries, restaurants and bars to enjoy along the way. So, if you're looking to indulge in some high-end fashion, Amsterdam is definitely the place to go!