Unique Scarf Patterns to Inspire Your Creativity
Don't Be Basic: Spice Up Your Wardrobe with Unique Scarf Patterns!
Hey there! Are you tired of wearing the same dull scarves every winter? If so, I've got just the thing for you! I don't know about you, but I love finding unique ways to add personality to my wardrobe. Since scarves are such a versatile accessory, there's no better way to spice up an outfit than with a unique scarf pattern. In this blog, I'll walk you through some of my favorite ideas and give you tips on how to style them.
Who wants to be basic when you can be the trendsetter in your friend group? Not me, that's for sure! By wearing a unique scarf, you're sure to catch some compliments and turn heads. But that's not the only benefit. Scarves are a cozy, functional way to fight off the winter chill, and adding a unique pattern will make you feel so much more fashionable and confident. I promise, once you try it, you'll see the difference!
Unique Pattern Ideas: Let's Get Creative with Our Scarves!
Are you tired of wearing the same old plain scarves? Why not add a pop of personality to your wardrobe with unique patterned scarves? Here are some fresh ideas to try:
Polka dot patterned scarves: Add a playful touch to your outfit with polka dot patterns! This classic pattern comes in various colors and sizes, making it versatile for any style.
Striped patterned scarves: Stripes never go out of style, and they work well with almost anything! Mix and match patterns with different clothing textures, such as denim or leather, to create an edgy look.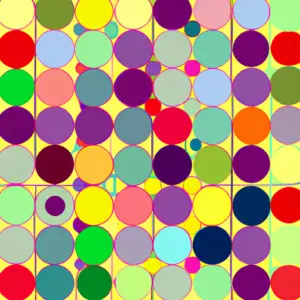 Chevron patterned scarves: Chevron patterns are funky and fun, making them perfect for an energetic vibe. These bold prints add a modern twist to any wardrobe.
Snakeskin patterned scarves: For a more adventurous look, try snakeskin! Although they may seem intimidating, these scarves can give a little sass and edge to a simple outfit.
Don't be afraid to experiment with different patterns and colors! However, keep in mind these tips when wearing unique patterned scarves:
Pairing different patterns with wardrobe pieces: When wearing a patterned scarf, make sure it complements the rest of your outfit. If you're wearing a bold patterned scarf, keep the rest of your outfit minimal.
Matching colors and fabrics: Don't overwhelm your outfit by adding too many colors or textures. If you're wearing a multicolor patterned scarf, keep the rest of your outfit in a natural or neutral color.
Ready to take your scarf game to the next level? Try incorporating a unique patterned scarf in your next outfit! Who knows, it may just become your new favorite statement piece.
Accessorizing with Unique Patterns for Maximum Style Points!
Okay, so you've got your unique patterned scarf, but now you're wondering how to style it, right? Well, fear not my stylish friend! I've got some expert tips on how to pull off a statement look with your scarf.
Pairing Different Patterns with Wardrobe Pieces
One of the best ways to make a statement with your scarf is to pair it with contrasting patterned clothing. For example, a polka dot scarf would look amazing with a striped shirt! If you're feeling brave, you can even mix and match different patterns, like a snakeskin scarf with a leopard print dress. The key is to make sure that the patterns don't clash too much and that they have some common color element that ties them together.
Suggestions for Matching Colors and Fabrics
Another way to accessorize with your unique patterned scarf is to match the colors and fabrics with other accessories or loosely with the rest of your outfit. If your scarf has a bold color or print, keep your shoes and bag simple. If you're wearing a busy scarf, pair it with understated jewelry, like stud earrings and a simple necklace. For colder weather, try layering your scarf over a sweater with a similar fabric, like cashmere or wool, for a cozy and chic look.
A Link to Inspire Your Creativity
Still unsure how to accessorize with a scarf? Check out Lovely Life of Leah's article on 5 Creative Ways to Style a Scarf for some inspiration. She has some really cool ideas on how to wear your scarf in unique and stylish ways!
So, there you have it! With these tips and a little bit of confidence, you'll be able to pull off a bold and stylish look with your unique patterned scarf. Remember, fashion is all about expressing yourself and having fun!
That's a Wrap! Embrace Uniqueness with a Patterned Scarf
Well, folks, we've reached the end of our journey through the world of unique patterned scarves. I hope you enjoyed the ride as much as I did! Let's recap some of the fantastic ideas we explored.
First, we talked about polka dot patterned scarves. These quirky and fun patterns can add a playful touch to any outfit. Next, we explored striped patterned scarves. These versatile pieces can be simple or bold, making them an excellent option for both casual and formal occasions.
Then, we discovered the bold and trendy chevron patterned scarf. This unique design can add a dose of energy and excitement to any outfit. Finally, we explored the edgy and exotic snakeskin patterned scarf. This wild and adventurous design can add a touch of danger and intrigue to your wardrobe.
Now that we've got all these ideas swimming in our heads, let's talk about how to actually wear them. The key to successfully pairing different patterns is to balance them out with solid-colored pieces. You can also mix and match patterns by choosing pieces with complementary colors and similar fabrics.
So, what are you waiting for? It's time to shake things up and try out one of these unique patterned scarves. Don't be afraid to take risks and show off your individual style. Who knows, you might just inspire someone else to do the same!