How to Wear Bold Prints Like a Pro
Let's face it, when you go bold with your prints, you gotta know what you're doing. It can either be a total fashion disaster or something that looks simply NOICE. If you've ever thought of stepping out of the safe zone and going bold with your prints, let me give you the low-down.
Whether it's floral dresses, stripes, checked shirts or animal prints – bold prints are having a moment. And for good reason – they really help level up any outfit. Plus, if you get it just right (by also considering fit, shape and balance) then you'll have an effortless look that everyone will be wondering about.
So how do you become a pro at wearing bold prints? It all comes down to knowing what size print suits you best, understanding the shape of the print (because it makes a difference!), as well as balancing out the outfit with neutral pieces. Then make sure you add a sweet touch of accessories, which is really what makes an outfit.
Tips for Wearing Bold Prints
Livin' large doesn't get any easier than going bold with prints. But before you jump in, here are a few pointers to make sure you look your best.
First things first: size matters. A pattern that's too small won't make much of an impact, and a pattern that's too big will overpower your entire ensemble. Find something that's just right.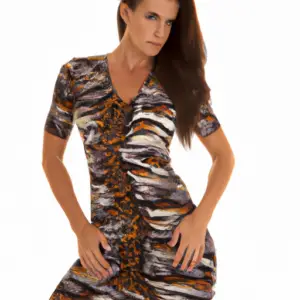 The shape of the print should also work with your body type. If you're petite, go with a small print. If you've got curves, pick something more angular or geometric to create balance.
Once you've got your bold print, let it take center stage. Avoid adding too much color into the mix, and instead opt for muted shades and neutral tones as accents. It'll help keep the focus on the statement piece without going overboard.
Finally, don't forget the finishing touches. Accessories like jewelry, scarves, hats, and shoes can really complete the look. Just remember not to pile 'em on—less is more when wearing a bold print.
Styling Ideas for Bold Prints
When it comes to styling bold prints, there are so many options out there! For a classic look, try pairing a bright blouse with dark pants or trousers. This creates a nice contrast that is sure to make an impact. If you're feeling adventurous, go all-out with a bold printed skirt and pair it with a plain top. Or get creative and mix and match different bold prints. Just make sure to accessorize carefully – too many patterns can be overwhelming.
If you really want to make a statement, think about wearing contrasting colors. This will create a vibrant look that is sure to turn heads! And don't forget to have fun and experiment – the possibilities are endless when it comes to wearing bold prints.
Conclusion: A Recap of the Benefits of Wearing Bold Prints & Tips for Styling Them
Yup, it's true—bold prints give your wardrobe a kick and shining personality. Whether you're going for an edgy but sophisticated look, or just want to be a bit bolder with your style, they are always a safe bet.
But it's important to remember that when wearing bold prints, size, shape, and balance all play a huge role in making your look come together. Go too big, and you can end up looking like a circus clown; too small, and your style won't stand out at all!
So, if you want to rock a bright blouse and dark pants, pick a bold print in the right size. Or, if you'd like to mix and match different bold prints, consider the shape of each one first. And be sure to accessorize carefully and add neutral pieces to tie it all together!
All in all, bold prints offer plenty of styling options for all kinds of looks. So don't be shy—have fun playing around with 'em, and let 'em show off your wild side!
FAQs About Bold Prints Fashion
How do you style loud prints?
Well, when it comes to styling loud prints, I'm your man. It's all about balance, so to begin, I'd start by choosing a few of the loud prints in your wardrobe. Pick solid colors for your base items and let the loud prints be the focus of your outfit. For example, if you have a bold floral skirt, pair it with a plain white tee and some slick black booties. Add minimal touches like a plain black belt, necklace, and a structured coat, and you've got a look that says \
Do big prints make you look bigger or smaller?
When it comes to being stylish, it's all about the visuals. No one likes to look like a walking billboard. Sure, big prints may seem like a bold fashion statement, but they can also make you appear larger than you really are.
So, do big prints make you look bigger or smaller? Well, it depends on a few factors. If you are tall and curvy, a larger print can help balance and flatter your body shape. On the other hand, a larger print can make petite body types look a bit overwhelmed. If you are trying to look smaller, stick to smaller prints.
Moreover, if you are considering wearing a larger print, there are a few things to keep in mind. First, make sure the scale of the print isn't too overwhelming. Also, pay attention to the proportion of the print. A larger print on a small silhouette can look too busy and make you appear bigger. So, try to keep the print in the same scale as your body type.
In short, big prints can make subtle differences in how you look, depending on your body type. Ultimately, it is important to find a size and print that is flattering for your body shape.
How can I dress more bold?
I'm all about pushing boundaries when it comes to fashion. If you want to dress more bold, why not take the road less travelled? Try different silhouettes, textures, and fabrics to create a look that nobody else has. Experiment with bold colors and patterns like polka dots or florals. Throw a few unexpected accessories into the mix, like a sleek cat-eye sunglasses or a funky hat. Layer items and play with volume and proportions to add depth and interest to your look. With a little bit of creativity, you can create a unique style that will turn heads!
how to wear bold prints
When it comes to wearing bold prints, the key is knowing how to make them look effortless while still making a statement. First and foremost, you should remember that less is often more. Pick one bold print piece and pair it with classic neutrals like black, white or grey. That way, you'll be able to create a put-together look without overwhelming yourself or anyone else.
You can also try adding some accessories to dress up the look. A bright scarf or a piece of statement jewelry can help bring the whole outfit together and draw attention to the bold print. Don't be afraid to mix and match different prints, as long as you don't overdo it. For example, wearing a bold floral skirt with a striped top can be a great way to make a statement, while still looking chic and sophisticated.
At the end of the day, wearing bold prints is all about confidence. If you're feeling bold and daring, why not be a bit daring with your wardrobe too? With the right attitude, you can pull off any bold print look you want, so don't be afraid to be a little daring!