Discovering the Joy of Yoga
Hey there! I'm Bob, and if you're anything like me, you've been curious about yoga and all its potential benefits. From improved flexibility to stress relief, there are many reasons why so many people around the world have become devout practitioners of this ancient form of exercise.
Having started my own yoga journey only recently, I'm here to tell you that it is indeed as amazing as everyone said it would be. And if you're thinking about getting into it, there are a few things you should keep in mind before diving in.
First off, location is key! You don't want to find yourself trekking an hour out of your way to make it to class – figure out where the studios are closest to you and get ready to hit the mat.
Second, cost can be a factor – but don't let it deter you. Many studios have introductory specials or discounts for first-time yogis. Do your research and see where you can get the best bang for your buck.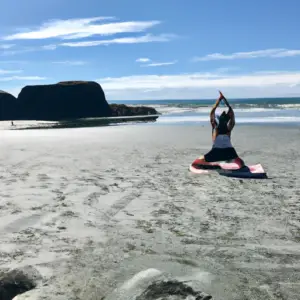 Third, there are lots of types of classes available. Depending on your fitness level, age range and goals, there are plenty of options to choose from. Do your homework and find the yoga studio with the type of practice that speaks to you.
Finally, don't forget to check out the atmosphere. Each studio will have its own unique vibe, so take some time to explore the different options and figure out which one strikes a chord with you.
At the end of the day, the main thing to remember is that your personal journey is what matters most. Whether you've been practicing yoga for years or just starting out, make sure the studio provides the kind of environment that will allow you to blossom and really get the most out of your experience.
Factors to Consider When Choosing a Yoga Studio
When picking out a yoga studio, there's a lot of stuff you gotta consider. Sure, location and cost are important, but that ain't the whole picture. Here's my take on the other things to think about.
First off, what kinds of classes they offer – if you're just getting started, see if they have intro classes or beginner programs; if you're more experienced, look for something to challenge ya. That'll help you get the most out of every session.
The atmosphere of the studio can make or break your experience. You want a place where you feel comfortable and welcome – ask around or take a peek at the reviews online to get an idea of the vibe. If it's too stuffy, overly serious, or too chaotic for your taste, find another spot that speaks to you.
Your experience of yoga shouldn't be one-size-fits-all – you're unique, so why should your practice be? Make sure the studio you choose feels like a place you wanna show up to!
Questions to Ask Before Choosing a Yoga Studio
So you're thinking of joining a yoga studio, eh? Making the decision can be tough, but it's important that your chosen studio is the right fit for you. It's not all about location and cost, there's a lot more to consider before signing up.
Start by asking around. If you know anyone who already practices yoga, find out what their experience with the place has been like. Or ask about any deals or discounts available – you don't want to miss out on a good bargain!
It's also essential to check how experienced the instructors are. After all, you want to make sure that your instructor knows their stuff. Most studios will have trial periods so take advantage of them to get a feel for the vibe of the place. You'll be spending a lot of time there, so it's important to be sure you feel comfortable.
If possible, try to attend a few classes to see if the atmosphere works for you. And don't forget to ask about additional amenities, such as towels and Mats. These extras can really add up, so make sure you get the full picture before committing to anything.
Finally, make sure to factor in any hidden costs – such as annual membership fees or late cancellation charges. You don't want any nasty surprises down the road.
At the end of the day, your goal should be to find the studio that best suits your needs. Choose wisely and you'll be reaping the benefits of yoga in no time!
Conclusion
Well, what can I say? Choosing the right yoga studio for you can be a daunting task. You have to take into account location, cost, type of classes offered, and atmosphere. No two studios are alike – and there are a lot of questions that need answers before joining any one! But, it's worth doing your homework so you can get the most out of your practice.
I'd definitely encourage you to ask any prospective studio what types of discounts they offer, how long their instructors have been teaching, and if they allow a trial period. And don't forget to listen to your gut – if you feel like a place isn't right for you, don't force yourself to stay!
Ultimately, practicing yoga can have amazing benefits for your body and mind. So, find a studio that meets your needs, and don't be afraid to dive in and see what happens!
Selecting a Yoga Studio
How do you evaluate an ideal yoga class?
When evaluating an ideal yoga class, I look for a few key elements. First and foremost, I want to make sure the instructor is knowledgeable and experienced. They should be able to demonstrate the poses and provide correct alignment pointers. I also like to see a class that is able to accommodate a wide range of skill levels. It should challenge those who are experts, but also be accessible enough for those who are just beginning.
In addition to the class structure, I'm also looking for an instructor who is open to innovation and incorporates unique elements into the practice. An ideal class should be more than just poses. I'm looking for an experience that combines elements of mindfulness, music, and philosophy to create a more immersive atmosphere.
Last but not least, I'm looking for an instructor who is passionate about what they do. A great class should be energizing and leave students feeling revitalized and inspired. A teacher who is able to bring an infectious enthusiasm and has an ability to connect with their students is invaluable in creating an ideal yoga class.
What is the basic structure of a yoga routine?
My basic go-to for a yoga routine is to start with a few deep, slow breaths to set the tone, followed by some gentle stretching and warm-up poses. Then, I like to pick one or two focus poses that target the areas I want to work on the most. After that, I move into whatever sequence of poses flows together naturally, keeping in mind to balance different body parts and avoid overworking any one part of my body. As I move through the sequence, I pay attention to the way the poses feel and make modifications if the pose isn't working for my body. Finally, I end with a few deep breaths and some grounding, restorative poses. It's a great way to start my day and give my body the attention it deserves!
What are you looking for in a yoga class?
I'm looking for a yoga class that can challenge me while offering a chance to unwind and escape from the hustle and bustle of everyday life. I want a class that is tailored to my current level of experience and fitness abilities, so that I can learn and advance my practice with confidence. I'm also looking for a class that values safety, knowledge, and respect, avoiding pushing too hard and risking injury or over-stretching. Above all, I'm looking for a yoga class that's enjoyable, with a knowledgeable and passionate instructor who can guide and inspire me to reach my goals.
what to look for when choosing a yoga studio
When choosing a yoga studio, there are many factors to consider. First and foremost, it's important to make sure the studio is certified, with qualified instructors and a safe and positive environment. You should also take into account the types of yoga classes offered, and if they meet your needs and interests. Additionally, pay attention to any special amenities, such as music, showers, and parking. Finally, check to ensure the studio has a clean and comfortable atmosphere, with sufficient space and adequate ventilation.
It's also a good idea to get a feel for the instructors and their teaching style. You want to make sure you connect with the teacher, and that their instruction is clear, their attitude is positive, and their teaching style matches your desired goals. If you're new to yoga and feeling intimidated or overwhelmed, find out if the studio offers beginner classes or private instruction.
When looking for the best yoga studio for you, it's important to do your research and be thorough. Visit potential studios and take a few classes to get a sense of the atmosphere and the teaching style. Ask around to see if any friends or colleagues have recommendations. Most importantly, trust your intuition: if it doesn't feel right, keep looking!