Find the Perfect Prom Dress on a Budget
Finding the Perfect Prom Dress on a Budget
Hey, everyone! Are you excited for your prom but dread the thought of spending a fortune on a dress? Don't worry; I got you covered! Finding the perfect prom dress is possible without breaking the bank. Here are some tips to help you fulfill your prom dress dream on a budget.
First things first, what do we mean by a "perfect" prom dress? It's your dream dress – that one dress that checks all the boxes, from style to fit, to price. You don't have to settle for anything less than perfect, even if you have a limited budget.
Now that we have established what we are looking for let's talk about where to shop. Thrift stores are a great option for finding unique and affordable prom dresses. Many secondhand stores sell almost-new dresses donated by former prom-goers or bridesmaids. Online retailers are also worth checking out, as they offer a wide range of styles and prices.
Planning ahead is crucial when shopping for a prom dress. You don't want to impulse buy and regret it later. Set a budget and stick to it. Also, don't forget to read the store's return policy. You don't want to be stuck with a dress that doesn't fit or you don't like.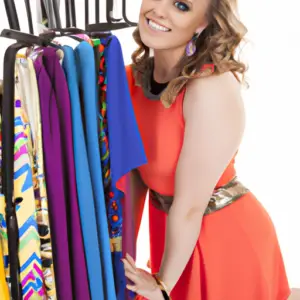 Shopping tips time! Knowing your measurements is essential to ensure that the dress you are considering will fit correctly. Don't forget to check for discounts and sales; you might find a fabulous dress at a lower price. Renting might also be a viable option; some stores offer beautiful dresses for rent at a fraction of their retail price.
When accessorizing your dress, focus on small items that can elevate the overall look, such as jewelry and shoes. You don't have to spend a fortune on accessories either instead choose items that will complement the dress nicely without overwhelming it.
In conclusion, finding the perfect prom dress on a budget is achievable by following these simple tips. Remember to plan ahead, check for discounts, and focus on your dress's fit and style. Have fun shopping, and don't forget to dance the night away!
Where to Shop: Find Your Dream Prom Dress Without Breaking the Bank
When it comes to finding the perfect prom dress, the first thing to consider is where to shop. As a budget-conscious shopper myself, I have a few tips to help you find your dream dress without breaking the bank. One of the best places to start is your local thrift store. Not only can you find unique pieces that no one else will be wearing, but you can also save a lot of money. Thrift stores often have formal wear sections where you can find dresses for a fraction of the cost of new ones.
If you prefer to shop online, there are plenty of retailers that offer affordable prom dresses. Just be sure to read reviews and check the return policy before making a purchase. Some online retailers have stricter return policies, so it's important to make sure you can return the dress if it doesn't fit or isn't what you expected.
Get Prepared: Planning Ahead to Score Your Perfect Prom Dress
When it comes to prom season, there's no doubt that the perfect dress is one of the most important things on your mind. However, finding the right dress at a reasonable cost can be a daunting task. That's why it's important to start planning and strategizing early on to avoid a last-minute rush and overspending. Here are some tips to help you plan ahead and save on your dream prom dress:
Set a budget: Don't let your prom dress break the bank!
Before you start browsing online or hitting the stores, it's essential to know how much you're willing to spend on your prom dress. Make a realistic budget that will allow you to get the dress of your dreams without breaking the bank. Keep in mind that you'll also want to budget for accessories, makeup, and other small expenses.
Check the return policy: Protect yourself in case of a fashion emergency.
Make sure to read the store's return policy and understand their terms and conditions before buying your prom dress. You never know when a fashion emergency could arise – your dress may not fit, or it may not look as great as you thought it would. An understanding of the return policy will help you protect yourself and ensure a hassle-free refund or exchange if needed.
Be Wise: Shop early and consider renting.
Don't wait until the week of prom to start shopping, as that could lead to overspending or even settling for a dress you don't love. Start browsing a few months ahead of time and consider renting a dress if that's an option. Renting a dress is a cost-effective and eco-friendly solution that can also reduce the stress of finding the perfect dress.
Shop smart: Know your measurements and look for discounts.
When shopping for your prom dress, it's essential to know your measurements accurately. This information will enable you to buy the correct size of the dress and avoid the hassle of returns. Additionally, be on the lookout for discounts and sales, especially online. You can find great discounts and save a few bucks by signing up for newsletters and promotional alerts from your favorite online retailers.
Planning ahead can make finding the perfect prom dress easier and more cost-effective. Keep these tips in mind, and you'll be sure to score a fabulous dress that makes you look and feel like the belle of the ball!
Shopping Tips: Get The Bargain Of A Lifetime
I'm not going to lie, finding the perfect prom dress can be overwhelming, besides finding one that's affordable and stylish is even harder. But don't worry, here are some shopping tips that have helped me find gorgeous dresses without breaking the bank.
Know your measurements
Knowing your exact measurements is key when shopping online or thrifting. You don't want to end up with a dress that's too tight around your chest or so baggy it looks like a potato sack. So get out that measuring tape and take note of your bust, waist, and hip measurements.
Look for discounts and sales
This may seem like a no-brainer, but some retailers offer discounts or sales at specific times of the year. End-of-season sales are a perfect time to snag that prom dress you've been eyeing. Always be on the lookout for coupons or end-of-stock deals which can help you save some money.
Consider renting
If you're determined to wear a designer dress but can't afford the hefty price tag, renting may be a good option. Sites like Rent the Runway offer designer dress rentals for a fraction of the cost. The dress is sent to you and you simply return it after the event. Plus, you won't have to worry about what to do with the dress after prom.
Research return policies
Before purchasing or renting a dress, make sure to check the return policy. Just in case it doesn't fit or it's not what you expected, you'll want to know the guidelines for returning it. Always choose a retailer with a flexible return policy.
Don't give up on thrift stores
Thrift stores might not be your first choice, but they're great for finding one-of-a-kind, vintage dresses that nobody else will have. With some effort, you might just hit the jackpot and find the hidden gem that you never thought you needed. Plus, you'll be sustainable and help reduce waste.
With these tips, you'll be able to find your perfect prom dress without spending a fortune. Remember that you don't need to spend a lot of money to look beautiful on prom night.
Accessorizing: It's All in the Details
Alright, we've found the perfect prom dress for less, but now it's time to make it our own with some accessories! When it comes to accessorizing, I like to focus on the jewelry, shoes, and other small items. Avoid going overboard with accessories, keep it simple and chic. Don't try to match every accessory to the dress as it tends to look a little tacky. Instead, opt for jewelry and shoes that complement the dress while still allowing it to be the main focus of the outfit.
When it comes to jewelry, keep it classic and minimalistic. Don't wear too much, or it will compete with the dress. If the dress has a lot of embellishments, choose simple, elegant jewelry that won't clash or get lost in the outfit. Diamond studs or pearls are always a safe bet.
Shoes can make or break an outfit, so choose wisely! Online retailers like Lovely Life of Leah offer a wide variety of affordable formal footwear. Before buying shoes, consider their comfort level as prom night is not the night to break in new ones. Neutral-colored shoes are always a safe choice, but if you're feeling daring, opt for metallic or brightly colored shoes that match your dress.
Finally, don't forget about other small accessories like a clutch or a shawl. Choose again accents that complement the dress but don't outshine it. A simple clutch and a matching shawl can elevate your outfit and make it look complete.
Remember, less is more when it comes to accessorizing your prom dress. Choose wisely, and you'll look like the belle of the ball without breaking the bank!
Finally Finding the Perfect Prom Dress for Less!
After all the searching and browsing, here are the key tips to remember when finding the perfect prom dress on a budget. First, make sure to define what "perfect" means for you. Go to thrift stores or check out online retailers to explore a wide range of affordable options. When planning ahead, set a budget and be sure to check the return policy of any store you visit.
When shopping, it is essential to know your measurements to ensure a good fit. Look out for discounts and sales, and consider renting a dress for a one-time wear. After choosing the perfect dress, the focus should shift to accessorizing. Invest in jewelry, shoes, and small items that enhance the dress's beauty and elegance.
Finally, to conclude, these tips should provide a clear path to finding the perfect prom dress at an affordable price. Keep these guidelines in mind while shopping, and don't forget to have fun and enjoy the experience. Prom is a memorable event, and it's possible to make it unforgettable without breaking the bank. Happy shopping!