Dressing for Your Body Type Tips & Tricks
Slay Your Style: Dressing for Your Body Type
Hey there fashionistas! Today, we are going to talk about one of the key secrets to dressing flawlessly: dressing for your body shape. Have you ever found yourself in a dressing room, staring at yourself with a frown, wondering why the outfits you thought looked cute online don't suit you at all? Well, I have. But fear not, because once you understand how to dress for your body type, the possibilities are endless!
First things first, let's clarify what we mean by body types. Generally, there are three types: Apple-shaped, Pear-shaped, and Hourglass-shaped. Don't know what body type you have? Don't worry, we'll figure it out together!
So, whether you're trying to accentuate your curves or create more balance in your silhouette, this post is for you. Let's dive in!
How to Dress for an Apple-Shaped Body: Tips for Creating Balance
Hey there! Are you an apple-shaped body like me? It can be tough to figure out how to dress when your weight is concentrated in your midsection. Trust me, I've gone through a lot of trial and error to figure out what works best for me. But don't worry, I've got some tips that will help you accentuate your assets and feel confident in your clothes.
Tip #1: Create Balance
When you have an apple-shaped body, it's important to create balance between your upper and lower body. This means highlighting your shoulders, arms, and legs to draw attention away from your midsection. Some easy ways to do this include: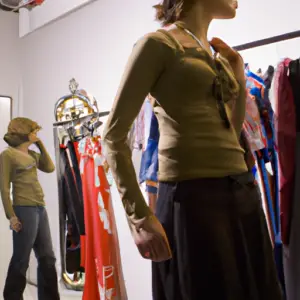 By emphasizing these areas of your body, you can create an hourglass silhouette and visually reduce the volume around your midsection.
Tip #2: Avoid Certain Types of Clothing
There are certain types of clothing that can emphasize your midsection and make you feel uncomfortable. To avoid this, steer clear of:
Tight, clingy fabrics that cling to your midsection.
Bulky or chunky layers that add volume to your body.
Empire-waist tops or dresses that have a seam and fabric directly under the bust.
Instead, focus on pieces that create a smooth, streamlined look around your waistline. This will help you feel more comfortable in your clothes and appear more balanced overall.
Overall, dressing for an apple-shaped body can be easy once you know what works for you. By following these tips, you'll be able to create a flattering, confident, and stylish look that highlights your best features. So go ahead, experiment with your wardrobe, and have fun!
Dress to Impress: Dressing for a Pear-Shaped Body
Hey there fellow pear-shaped friend! Welcome to my guide on how to dress for our unique body type. As a fellow pear-shaped individual myself, I know it can be tough finding clothes that flatter our curves and create balance on our bodies. So, let's dive in and discover some expert advice on how to dress to impress for our specific shape!
Tips for Creating Balance
First things first, when dressing for a pear-shaped body, it's important to focus on creating balance between your lower half and upper half. A great tip is to draw attention to your top half by wearing tops with bold prints, bright colors, or intricate details such as ruffles or lace. Another trick is to wear A-line skirts or dresses that fall just above the knee to elongate your legs and create a streamlined look.
When it comes to bottoms, it's best to stick to darker colors to minimize attention to your hips and thighs. High-waisted pants or skirts can also help create the illusion of a longer torso and accentuate your curves. Additionally, wearing flared or bootcut jeans can balance out your proportions and create a flattering silhouette.
Types of Clothing to Avoid
Now that we know what clothes can help us create balance let's talk about what to avoid. As tempting as it may be to wear tight clothing around our lower half, it's best to steer clear of bodycon dresses and skirts. They may cause unflattering bulges and emphasize our pear-shaped figure too much. Also, avoid wearing tops or jackets that end at your hip as they will draw attention to your lower half. Instead, opt for cropped jackets or blazers that fall at the waist to create balance.
To sum it up, dressing for a pear-shaped body can be a lot of fun once you know how to accentuate your curves and create balance. Remember to focus on your upper half and don't be afraid to experiment with different styles and textures. Confidence is key, so wear what makes you feel beautiful and rock that pear-shaped body with pride!
Dressin' for an Hourglass-Shaped Body
Well, hello there, fellow hourglass-shaped beauties! Let's talk about how to dress to show off those gorgeous curves. First things first, accentuate that waist, honey! Get yourself a good belt or waist-cinching dress to really show off your figure. And don't be afraid to highlight those hips and bust with form-fitting clothing. Embrace your curves!But, keep in mind that not all clothing is created equal for our body type. Avoid baggy clothing, as it can hide your curves and create a boxy shape. Also, steer clear of bulky, shapeless sweaters or tops. They'll do nothing for highlighting your waist, and might even make you look wider than you actually are. Opt for tops that hug your curves and flare out at the waist, to emphasize your wonderful shape.Now, let's talk dresses, which can be both a blessing and a curse for hourglass shapes. To really show off that waist, make sure the dress is nipped in at the waistline or has a defined band. Wrap dresses are a great option too, as they can be adjusted to fit our unique waist-to-hip ratio. But beware of dresses that are too flowy, as they can hide our curves and make us look shapeless.In summary, embrace those curves, hourglass-shaped ladies! Show off that waistline and accentuate those hips and bust with figure-hugging clothing. Avoid baggy, shapeless clothing and instead opt for form-fitting tops and dresses that highlight your figure. With these tips in mind, go forth and confidently rock those curves!
Wrap Up: Fashion Tips for Your Unique Body Type
So there you have it folks, some awesome tips for dressing the body you were blessed with. Trust me, I know that trying to figure out which clothes look best on you can be frustrating, but it doesn't have to be. Understanding your body shape and knowing which clothing styles complement your figure can help alleviate any fashion insecurities you may have.
Remember, dressing up should be fun, so don't be afraid to step out of your comfort zone and try new things. Let your creativity run wild, experiment with different textures and patterns, and above all, embrace your unique body type.
Don't be discouraged if you can't find the perfect fit right away. It takes time, patience, and lots of experiments to discover what looks best on you. So keep trying different styles, and eventually, you'll find your fashion sweet spot.
Lastly, always remember that what truly matters most is feeling confident and comfortable in your skin. Let your personality shine through your wardrobe, and don't allow anyone to dim your light. You got this!
FAQs About Dressing for Body Type
What is the 1 3 rule of dressing?
Okay, let me tell you about the 1 3 rule of dressing, it's actually quite simple. The rule states that when creating an outfit, you should keep things balanced by dividing your body into thirds with clothing. So, let's say I'm dressing for my pear-shaped body type which means my hips are wider than my shoulders. I would use the 1 3 rule by wearing a top that draws attention to my shoulders and a bottom that complements my hips. To start, I would wear a top that has some volume or detailing around the shoulders. This will broaden my upper body, making it look more proportional to my lower body. Next, I would choose a bottom that flatters my hips but doesn't add any additional volume. This could be a straight-leg or flare jeans, a flowy skirt, or even pants that have vertical stripes. This way, I'm highlighting my curves without making them the focal point of the outfit.By using the 1 3 rule, you can create visually appealing outfits that flatter your specific body type. And remember, fashion is all about experimenting and finding what works best for you, so don't be afraid to mix things up and try new things!
What are the 5 body types in fashion?
Alrighty, let me give you some tips on dressing for different body types! First things first, let's talk about the different body types. In fashion, there are generally five main categories: apple, pear, hourglass, rectangular, and inverted triangle. Understanding your body type is key to knowing what styles and cuts will flatter your figure. For instance, if you're an apple, you may want to focus on clothes that cinch in at the waist and show off your legs. If you're a pear, you may want to draw attention to your upper body by opting for tops with interesting necklines, while showcasing your curves with a-line skirts. Knowing these little nuances can really make a difference when it comes to dressing for your body type.Now, as far as specific tips go, here's a few of my favorites. For those who are on the more petite side, try vertical stripes and high-waisted skirts to elongate your silhouette. A belt or cinched waist can also create the illusion of a longer torso. If you're on the curvier side, consider investing in shapewear or well-fitting bras to create a smoother silhouette. And for those who are taller, try crop tops and wide-legged pants to balance out your height.Another important tip is to pay attention to proportions. For instance, if you're shorter, steer clear of oversized clothing as it can swallow you up. Conversely, if you're on the taller side, avoid cropped or boxy items that can make you appear wider.Lastly, don't be afraid to experiment with different styles and have fun with fashion! At the end of the day, it's all about feeling confident in what you're wearing. So try out those bold prints, those statement accessories, and most importantly, wear what makes you feel good!
What are the 3 main body types?
Well, there are primarily three main body types – apple, pear, and hourglass.
The apple body type is usually characterized by a broader upper body, narrow hips, and slim legs. If you have an apple-shaped body, you can try wearing V-neck tops, A-line skirts, and dresses that cinch at your waist to create an illusion of an hourglass figure.
The pear body type, on the other hand, involves having a heavier bottom half than the top. That is, you may have wider hips and thighs, while your shoulders are relatively narrower. Flowy tops, A-line skirts and dresses, and high-waisted pants work great for pear-shaped bodies.
Lastly, the hourglass-shaped body type is characterized by a balance between the upper and lower body with a slight waistline. If you have an hourglass shape, you can try wearing curve-hugging dresses and tops, high-waisted pants, and wrap dresses that accentuate your shape.
All in all, the key to dressing for different body types is to accentuate your best features while camouflaging any problem areas using the right clothes and accessories.