5 Tips for Accessorizing Your Outfit
Hey there! Let's get to accessorizin'. To help you look your best, I'm gonna teach ya 'bout the basics of sprucin' up those threads. Accessorizing – now that's a fancy word for "adding extra stuff to your outfit". Y'all know how t' put together a stylish outfit, but it's accessories, like jewelry and scarves, that really take it to the next level! Whether you're dressed up or keepin' it casual, these tips will help y'all look fly. So, let's have at it!
Tip #1: Choose the Right Colors
Choosing the right colors for an outfit can be tricky, but with a few simple tips you can add a little pizzazz to your look! For starters, try to match your accessories to whatever you're wearing. This doesn't always have to mean that all of your items have to be the same exact shade—sometimes it's nice to mix and match different hues of the same color to give your look some depth and dimension.
If you're looking to get creative, consider adding a splash of seasonal color! Unlike sticking to just one or two, incorporating various shades that play off each other is a great way to stay on trend without trying too hard. And if you're really feeling bold, why not incorporate complementary colors? This can instantly add a pop of vibrant interest to any outfit.
Tip 2: Consider The Occasion
When accessorizing, it's important to heed the old rule: dress for the occasion. Gearing up in your snazzy duds? Make sure you don't go overboard with too many accessories and end up looking like a Christmas Tree. But that doesn't mean you can't go all out on special occasions. Weddings, holidays, date night – they're all perfect times to show off the newest pieces you've picked up!
Different activities call for different levels of dress, so make sure your accessories match. For example, if you're heading to an outdoor summer BBQ, skip the fancy frills for some casual classics. Playful scarves, colorful hats, and statement jewelry can add a touch of panache and keep you comfy no matter where you are.
But if you DO find yourself attending a shindig that requires a more formal approach, don't be afraid to experiment. Nothing ties an evening look together quite like a classic purple velvet scarf or a pair of dangly earrings. Trust us – You'll turn heads without even trying!
Tip 3: Mix and Match Styles
When accessorizing, don't be afraid to mix & match styles. Blend classic with modern – try an art deco necklace with a casual outfit, or a vintage piece of jewelry with something more avant-garde. Balance bold with subtle – a statement cocktail ring could be the perfect complement to a more understated dress. These small embellishments will add a unique touch to your look and help create a stylish and cohesive ensemble.
Tip 4: Add the Finishing Touches
Now that you've got the basics down, it's time to really get creative. After all, you want to make a statement, right? So let's get to it! Start by trying out some eye-catching statement jewelry. These pieces will add an extra pop of style to any outfit, and they're perfect for elevating a look from blah to wow.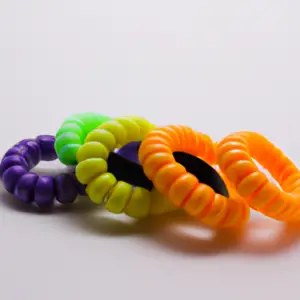 Don't forget about other must-have accessories like scarves and hats. Scarves are versatile and can be draped, tied, or simply hung around the neck. Hats are also great for adding a little flair and character to your ensemble. Go bold with a wide-brimmed fedora or subtle with a classic cap – whichever vibe you choose, you'll be sure to look chic.
So Long, Farewell: Wrap Up Your Look with Accessorizing
Well it's been quite a ride. We started off by defining accessorizing and gave you an overview of our top tips. Then we delved into the nitty-gritty, discussing color coordination, matching styles to the occasion, combining classic and modern pieces, and making statement jewelry the cherry on top.
But don't just take our word for it! Try out these ideas for yourself and experiment with other looks that feel good. Because when it comes down to it, style is really about you and what makes you feel your best. Confidence is always in fashion, so never forget to rock the outfit that shows your personality and creativity!
FAQ on Outfit Accessories
How can I make my outfit look better?
I'm all about accessorizing–it's an easy way to take an outfit from mediocre to marvelous! To get the most out of your look, here are a few of my top tips.
First and foremost, think outside the box. Have fun with it! Try adding unexpected pieces like a unique hat, a beaded bracelet, or a fun pair of patterned socks.
Next, make sure the colors you choose work together. Choose complementary colors that are similar in tone & saturation. That way, your entire look will have a cohesive feel.
Finally, pick pieces that make a statement. All of your accessories should tell a story. Whether you're going for a classic, minimalistic vibe or something a little edgier, make sure every piece carries its own weight.
So if you want to take your outfit to the next level, keep these tips in mind. With a few carefully chosen accessories, you'll be looking sharp in no time!
What is accessorizing in fashion?
In fashion, accessorizing is the art of taking an outfit to the next level. It is the difference between having a good look, and having a great look. Accessorizing doesn't have to be complicated – there are a few simple tricks to help you turn an ordinary outfit into something extraordinary!
First, think about the shape and color of the item you're adding. Is it round? Rectangular? Square? Choose pieces that are complementary shapes and colors. A round necklace can look great with a square-cut dress.
Next, look for interesting textures. If your outfit is mostly smooth, you can add a touch of texture with a scarf, a piece of jewelry, or a bag. Avoid matching the texture 100%, as that can look too contrived. Instead, try to create a tactile contrast.
Finally, try to accessorize with purpose. Instead of throwing on a bunch of random pieces, ask yourself: how can I use this to enhance my look? Do you want to add color? Make an outfit look more formal? Stand out? Find pieces that will do just that.
Once you've found the perfect accessories, it's important to be mindful of how you put them together. Start with a focal point – maybe a bold necklace, or a statement belt – and then layer on from there. Don't be afraid to mix and match materials and styles, and when in doubt, take a step back and see how it looks from afar.
How can I make my simple outfit more interesting?
Well, if you want to make your simple outfit more interesting, the first thing on my list is to accessorize! Accessories can make even the most basic outfits stand out — from shoes to hats, earrings to scarves, and anything else you can think of. I love how the right accessory can completely change the feel of an outfit. You can go for a more laid-back vibe with a pair of sneakers or a more sophisticated look with a pair of pumps — it really just depends on your personal style and the look you're going for. And don't be afraid to mix it up — it's fun to experiment and find a combination of accessories that works for you.
Another way to add some interest to your outfit is to add a splash of color. Whether it be a bright T-shirt, patterned scarf, or colorful jewelry, color can instantly make your outfit more eye-catching. Color is also a great way to show off your personality. For example, if you're feeling daring, go for a bold red or yellow. Or, if you want something more neutral, try a soft pastel or black and white combo. The options are endless.
Finally, don't be afraid to experiment with different textures. Think of pairing a smooth leather belt with a chunky knit sweater or a wool skirt with a lightweight silk blouse. Texture can help to add dimension to your outfit and make it look more interesting. Have fun with it and don't be afraid to mix and match!