Styling Up with Denim The Latest Trends
Introduction
Jeans are the ultimate wardrobe staple. Their popularity is seemingly universal, their versatility virtually unmatched. Whether you're hitting up a music festival or attending a black-tie event, denim has got you covered. But with so many styles and trends to choose from, it can be hard to know where to start.
On one hand, skinny jeans never seem to go out of style. On the other, bootcuts and distressed looks continue to remain trendy. So what's a girl (or guy!) to do?
Never fear! We've put together this handy guide on the latest denim trends, complete with expert tips on how to wear 'em right. Read on and get ready to rock your next denim look!
What Are the Latest Denim Trends?
If you wanna stay up on the latest fashion trends, then you need to pay attention to what's happening in denim. From bootcut to skinny jeans, and everything else in between, there are plenty of ways to rock the hottest denim looks.
The go-to jeans style right now is skinny jeans – they're super flattering and oh-so stylish. When it comes to washes and distressing, it's all about making a statement. Whether you opt for a deep indigo wash or distressed detailing with some fading or rips, you can easily show off your unique style.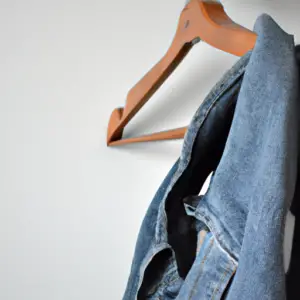 Bootcut jeans are another favorite amongst fashionistas. Choose a mid-rise pair if you want to show off your curves, and don't be afraid to experiment with washes. Darker washes are dressier, while lighter washes look cooler when paired with graphic tees.
If you really want to make a statement, distressed jeans can't be beaten. Check out acid wash styles, ripped detail, and boyfriend fits for some serious '90s vibes. Just make sure that you look for high-quality pairs so you don't wind up looking like a ragamuffin!
How to Wear Skinny Jeans with Style and Flair
These days, skinny jeans are all the rage. So if you're looking to really stand out in a crowd, it's time to perfect your skinny jeans style. From choosing the right style for you, to pairing those skinnies with all the right shoes, tops and accessories, here's exactly what you need to know to pull off this look.
When it comes to picking out the perfect pair of skinnies, don't just go for whatever fits; figure out what style works best for you. If you want something that's a bit more classic, go for a dark wash and a minimal amount of distressing. If you're feeling a bit edgier and trendier, then opt for a light wash and some rips or shredded patches.
Once you've got the jeans down, it's time to choose the shoes, tops, and accessories that'll give you that model-off-duty look. Some good ol' white sneakers are always a good option: they provide simple balance to the sleek silhouettes that come with skinny jeans. As far as tops go, you can't go wrong with an oversized graphic tee, cropped tanks, and statement tops with unique hemlines. And when it comes to accessories, think dainty jewelry like delicate necklaces and rings, as well as beanies and fedoras.
Now that you know how to wear skinny jeans stylishly, it's time to hit the shops and find the pair thaaattt does it for you! That way, you can be sure that you're making a statement for all the right reasons – not just because you're wearing skinny jeans.
How to Wear Bootcut Jeans
No modern wardrobe is complete without a pair of bootcut jeans. They're the perfect combination of masculine and feminine, classic and trendy. But how do you style them for maximum fashion impact? With a few tips and tricks, you can pull off any look with confidence.
First things first: choose the right bootcut. The leg should be slightly flared at the hem. This will create a nice silhouette that almost looks like a bell-bottom—but not too wide. The length should end right above your ankle, or it won't have the same effect.
Next up, pair those jeans with some shoes. We recommend keeping it simple and stylish with a plain white slip-on. Avoid anything that's big, bulky, or overly ornate. Of course, feel free to switch it up later as trends come and go.
When it comes to tops and accessories, let your creativity shine. A denim jacket works for any occasion and will add an extra level of visual interest. You could also throw on a casual tunic or tank top, depending on the season. And if you're in need of a bit more sparkle, you can always accessorize with statement jewelry.
Bootcut jeans are incredibly versatile — so go ahead, experiment and have fun! When done right, this style can take any ensemble from drab to fab.
How to Wear Distressed Jeans
When you're looking to add a bit of edge to your wardrobe, distressed jeans can be just the ticket. But wearing them well takes a little bit of know-how. Whether you're rocking dark or light wash denim, these tips will have you stepping out in style.
Choosing the Right Wash
The key to looking cool in distressed jeans is to not go overboard with the distressing. Opt for a pair with subtle fading and minimal whiskering – any more than that and you'll risk looking like you got lost on the way to a costume party! If you choose to go with light-wash jeans, keep the holes small and avoid frays if you want to stay on the dressier side. Darker washes play well with larger holes and more rugged fraying when you're aiming for a tougher look.
Pairing with Shoes, Tops, and Accessories
Now that you've chosen the perfect distressed jeans, it's time to pick out complements that'll take 'em from drab to fab. Keep it casual with a slouchy white tee, crisp Converse and chunky bangles for chill vibes. Or go for a more classic look with a tailored shirt, loafers, and statement earrings – either way you'll look great! Accessorize with a sling bag or crossbody purse to keep your hands free and complete the look.
Conclusion
No matter your style, denim is the perfect way to stay on-trend and looking good. With the latest denim trends, you can find the right fit for any occasion – whether it's skinny jeans with chunky boots or bootcut jeans with a cute little top and a statement necklace. When it comes to distressed styles, keep it light but edgy by choosing the right wash and pairing with something simple yet stylish.
With a little bit of effort and the right pieces, you can make a statement in whatever denim you choose – no matter if it's ripped, skinny, or bootcut. So go ahead, show off your style and stand out from the crowd with some chic denim!
FAQs on Denim Fashion
How to wear denim 2023?
Well, I've got ya covered! I'm gonna lay out the hottest looks for the upcoming denim trend: a mix of vintage and modern style. First up, you gotta keep it classic with a classic five-pocket style, like a pair of boot cut jeans or straight-leg jeans. Go for a dark wash for a timeless look, or a lighter wash for a more casual vibe.Next up, think about details: distressed details are super on trend, so go for those ripped, frayed jeans for an edgier style. Or, for a more classic look, go for old-school details like button-fly closures and contrast stitching. Once you've got your jeans on, let's talk tops: play with proportions and pair your cropped denim with an oversized top, like a slouchy sweater or a floaty blouse. For a more modern style, try pairing your jeans with a bodycon top to show off your curves. Finally, let's talk accessories. Throw on a pair of boots, sneakers, or sandals to complete your look. Add some aviator sunglasses to top off your outfit with a cool, classic vibe. And of course, no denim look is complete without a structured, classic handbag — go for a mid-size bag, like a tote or crossbody, to finish off your denim look. So there ya have it: classic jeans, details, tops and accessories — all the ingredients for the perfect denim look for 2023. Have fun experimenting and have a great time wearing the latest denim trends!
Are skinny jeans still in style 2023?
Yes, skinny jeans are still in style. In fact, for the 2023 fashion season, denim has been taken to a whole new level! From high-waisted jeans to statement-making patchwork designs, there's something for everyone's style.
The key to pulling off these denim trends is to know how to rock them in a way that flatters your body shape. For instance, if you want to keep your high-waisted jeans looking cool, consider pairing them with a tucked-in blouse and a pair of statement sneakers. It's all about finding the right balance between comfort and fashion!
In addition, don't forget to have fun with accessories. Whether you opt for a belt, some eye-catching jewelry pieces, a stylish headscarf or a trendy handbag, they'll all help to finish off your look.
Finally, keep in mind that denim is one of the most versatile fabrics out there, so don't be afraid to experiment. Whether you choose raw, distressed or even embellished jeans, you won't go wrong!
What is the trend for denim in spring 2023?
This spring, denim is getting a serious upgrade! From high-waisted mom jeans to classic straight leg silhouettes, there are so many trendy ways to rock the latest denim trends. Plus, if you're feeling daring, you could always try an oversized wide-leg or an edgy pair of acid wash jeans. No matter your style, there's a perfect denim look out there for you.
When it comes to styling these looks, the key is to keep it classic and versatile. To that end, opt for neutral colors like blue and white, and mix them with simple, timeless pieces, like a blazer, turtleneck sweater, or crisp white shirt. Don't be afraid to experiment with different textures and fabrics as well, as layering different materials like denim, velvet, and leather can create some really cool and unique looks.
And don't forget about accessories! To really make your denim outfit pop, add some interesting accessories like a statement belt, funky sunglasses, cool jewelry, or a vintage scarf. Doing so will elevate your look to the next level and turn heads everywhere you go.
So don't be intimidated by the latest denim trends – just have fun with them! Experiment with different silhouettes and layer different textures and fabrics to create a look that's totally unique and undeniably stylish.