Finding Affordable Shoes That Fit Your Budget
Hello Shoe Lovers: Let's Find Affordable yet Quality Footwear
As a shoe fanatic and bargain hunter, I know the importance of finding stylish and comfortable shoes that don't break the bank. After years of trial and error, I am excited to share my tips and tricks for finding affordable footwear that doesn't compromise on quality.
Things to Keep in Mind When Searching for Budget-Friendly Footwear
When I'm on the hunt for some new shoes, I always try to find something that won't break my bank account. But, while price is undoubtedly a critical factor, there are other considerations to make when you're on the hunt for affordable footwear.
Quality of Materials: Just because shoes are cheap doesn't mean they should fall apart after one wear. When you're browsing the bargain section, make sure to take a closer look at the materials used to craft the shoe. Try to go for shoes made with sturdy materials that can withstand wear and tear.
Comfort: Shoes that pinch your toes or rub your heels can make an outfit feel like a complete disaster. Even if you're shopping on a budget, prioritize finding comfortable footwear. This is especially important if you're planning on wearing the shoes for an extended period.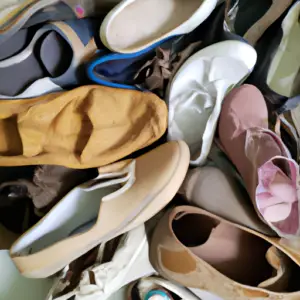 Style: If you're anything like me, you want to look good even if you're not spending a ton on shoes. When searching for affordable shoes, keep an eye out for styles that can be worn with multiple outfits or that fit the occasion you need them for.
Shopping Tips: The best deals can often be found online. Don't be afraid to shop around on various websites until you find the perfect pair for your budget. Make sure to compare prices between different retailers to ensure you're getting the best deal possible. And, always know your shoe size beforehand to avoid any potential fit issues.
Overall, you don't have to break the bank when shopping for footwear. Just remember to prioritize quality, comfort, and style, and keep these tips in mind when searching for affordable shoes.
Score Affordable Shoes: Shopping Tips
Okay, let's talk shopping strategies. Shopping for affordable shoes is a task that requires careful consideration, comparison, and utilization of your amazing negotiation and bargain-hunting skills. Here are a few tips from an experienced bargain hunter (me!) to make your shoe shopping experience fruitful and budget-friendly.
a. Shop Online
The world's moving online, and you should too! Shopping for shoes online is way more convenient and, most of the time, less costly. Online retailers offer a vast selection of shoes at discounted prices that you cannot find in physical stores. Plus, you avoid the crowds, the long lines, and the unnecessary temptations of impulsive shopping. So, put your feet up, grab your computer or smartphone, and let's get shopping.
b. Compare Prices
Every savvy shopper knows this golden rule: compare prices before buying anything. The same applies when shopping for shoes. Compare the prices of the shoes you're interested in across different online and physical stores, and don't forget to include shipping and handling fees. You may be surprised to find that the same shoe style you saw at the mall or shoe store is available for a fraction of the price on a different website or in a different store. Comparison shopping might require more time and effort, but trust me – it pays off, literally.
c. Know Your Size
This tip may seem obvious, but it's essential. Knowing your shoe size is vital to ensure your shoes fit comfortably and avoid returns or exchanges that cost time and money. Different shoe brands and styles have different sizing systems, so take the time to measure your feet and refer to each retailer's sizing chart when shopping online. Also, it's wise to avoid buying shoes that are too small or too big, hoping that they'll stretch or shrink over time. They usually don't, and you end up with painful or uncomfortable feet.
So, there you have it – three tips to help you score affordable shoes without sacrificing quality, comfort, or style. Happy shopping!
We're all set! Let's go shopping for affordable shoes
Well, there it is! We've just explored some points to remember when buying affordable shoes. With the amazing shopping tips that we've provided, you shouldn't have to break the bank while getting the best shoe for your purpose. It's time to start shopping for deals and sales to find that perfect pair to complete your outfit.
Remember, shoe shopping isn't just about stunning designs or a good fit, but also about quality materials that ensure durability, long-lasting comfort, and versatility. Remember to check shoe stores online or offline for different sizes and designs so that you can find what you're searching for at a fair price.
If you're shopping online, be sure to compare prices and read your shoe size measurements against the sizing chart. Finally, always choose a style that suits your style preference and is comfortable on your feet. Not all shoes are created equal, so take your time searching around before landing on your ideal pair.
That's all folks! We wish you the best of luck in your shoe-buying journey. Be sure to keep the tips we have provided you in mind as you shop to ensure a rewarding and money-saving experience. Happy shoe hunting!
Shoes: Fit & Affordability
How to find shoes with big feet?
Well, let me tell you, finding shoes for big feet can be a real challenge. But fear not! There are a few tricks of the trade that I've picked up along the way. First off, don't be afraid to shop online. There are plenty of websites that specialize in shoes for larger sizes. Just be sure to read the reviews to make sure the shoes fit true to size. Another option is to shop at specialty shoe stores. These stores cater to customers with larger feet and carry a wider range of sizes. Yes, these stores may be a bit pricier, but it's worth it to have shoes that fit comfortably. Don't forget about outlet stores! Many times, these stores will have discounted shoes in larger sizes that have been returned or are from last season's stock. Finally, it's important to prioritize comfort over style. While those trendy shoes may catch your eye, they may not have the support you need in a shoe. Look for brands that are known for their comfort and support, such as New Balance or Brooks. In conclusion, finding shoes for big feet may require a bit more effort, but it's definitely possible. Don't be afraid to shop online, hit up specialty stores or outlet stores, and prioritize comfort over style. Happy shoe shopping!
Is StockX shoes legit?
Is StockX shoes legit? Well, let me tell you, the answer is a bit complicated. Personally, I think that StockX is a legitimate platform for buying and selling shoes, but as with any online marketplace, there are always risks involved. They do have a team of experts that authenticate each shoe, so you can be reasonably sure that you're getting the real deal. However, there have been cases where fake shoes have slipped through the cracks, so it's always important to double-check the item you receive. That being said, if you're looking for rare or hard-to-find shoes, StockX can be a great resource. Just be prepared to pay a premium price for them.Now, if you're looking for affordable shoes that fit, there are a few strategies that I've found to be effective. First of all, don't be afraid to shop sales and clearance sections. You can often find good deals on last season's styles or slightly imperfect shoes that still look great. Another tip is to buy shoes online, but only from retailers with free shipping and free returns. That way, you can try on several sizes and styles in the comfort of your own home, without worrying about paying for return shipping if they don't work out. Finally, consider investing in a good pair of shoe inserts. They can help adjust the fit of a slightly too-big or too-small shoe, and can also provide added support and cushioning for your feet. With these tips in mind, you should be able to find affordable shoes that fit both your budget and your feet.
Should you buy your exact shoe size?
Well, let me tell you something. Buying your exact shoe size might not be the best idea when searching for affordable shoes that fit. Sometimes, you might have to go half a size up or down to find the perfect fit. It all depends on the brand and style of the shoe. For example, I usually have to go a half size down when buying Nike sneakers, but I have to go a half size up when buying boots from Steve Madden. It's important to try on different sizes and walk around the store to see how they feel. And don't forget to wear the type of socks you would normally wear with those shoes, as that can make a difference in fit as well.
Another tip to finding affordable shoes that fit is to look for sales at the end of each season. This is when stores are trying to clear out inventory to make room for new styles. You can often find high-quality shoes for a fraction of the original price. I've also had success shopping at discount stores like TJ Maxx, Marshalls, and Ross. They carry name-brand shoes at a discounted price. One thing to keep in mind is that you might not find the exact size or style you're looking for, but if you're flexible and open to trying on different options, you might discover a hidden gem.
Finally, if you struggle with finding shoes that fit due to foot problems or unique sizing, consider investing in custom-made shoes. This might sound expensive, but it doesn't have to break the bank. There are several online retailers that offer customized shoes at an affordable price. By getting the perfect fit, you'll be able to wear them for longer periods without discomfort or pain. Plus, they'll last longer since they were made just for you. So, don't be afraid to explore different options and get creative when it comes to finding affordable shoes that fit. Your feet will thank you!