Affordable Clothing for Women Finding the Best Deals
Hey, everyone! Showing off my new threads is always something I look forward to. But let's face it – fashion can be pricey! So, how do you get the hottest looks while staying in budget? Let's find out.
Today, we'll be checking out some smart ways to save money on clothing. Staying fashionable doesn't have to break your bank account – you just have to know where to shop and what to buy. From thrift stores and clearance racks to investing in quality basics, let's make sure our wallet's still full of green after a shopping spree.
Understanding Your Budget
Ah, budgeting! It can be tough when you gotta decide how to stretch those dollars. The good news is, it doesn't have to be overwhelming. Let's dive in and learn the basics of getting your spending under control so you can look chic without breaking the bank.
First off, we gotta set a clothes budget. But don't just arbitrarily pick a number – figure out what you're willing to part with. Take into account everything from rent and groceries to transportation and entertainment. Ask yourself: "Can I realistically afford this?" If the answer's no, then maybe find ways to cut back elsewhere.
Once you know what sorta cash flow you've got going, it's time to assign priorities. Not all clothing purchases are created equal, y'know? Make sure your wardrobe essentials (like underwear, shoes, and jackets) come first. Those are the things that really matter and'll get the most use. After you've invested in the basics, you can move on to more 'trendy' items if you've got money left over.
Shopping for Affordable Clothing
Let's face it, clothes can get pricey. But you don't have to sacrifice style for savings! Here are some of my top tips for finding the best in affordable fashion.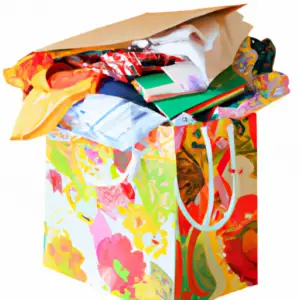 First up, shopping online. With the convenience of the internet and global marketplaces, you can effortlessly browse through a ton of different styles without ever leaving your couch. Plus, savvy bargain hunting can often turn up hidden gems with fantastic discounts. Just remember to always double check the measurements when shopping online – nothing's worse than ordering something off the internet that doesn't fit!
Next, thrift stores. I know, I know – thrift shopping is an art form, but once you get the hang of it, it can be highly rewarding! You just gotta dig around, know what you're looking for, and take your time. Happily enough, many thrift stores offer discounted days or memberships – so definitely keep an eye out for promotional offers.
Finally, clearance racks. Although shopping on the clearance rack isn't always glamorous, it can be worth it for the savings. Many retailers will mark down items during certain times of the year, so follow your favorite stores and take advantage of those deals!
Final Tips
When it comes to shopping for clothes on a budget, I'm a firm believer that quality trumps quantity every time. If you do your research and shop around for the best deals, you can often find clothing items that are both in style and will last a long time. Even better, why not consider buying some basic pieces in neutral colors so they match with anything? This can help you save money without sacrificing style.
Another tip when it comes to shopping affordably is to look beyond traditional department stores. Consider online options and thrift stores, or even check out the clearance racks. You may be surprised at what you find! While you're shopping, always keep in mind the purpose behind your purchase. Are you just looking for something trendy or fashionable, or do you actually need something to wear? Answering this question ahead of time can help you make smarter decisions when it comes to spending.
Finally, no matter where you're shopping, take note of the quality of the material and construction. Poorly-made items can fall apart quickly and leave you with no wardrobe options. So, take your time and don't settle for anything less than great — after all, you get what you pay for!
Drawing to a Close
We've come to the end of our journey together in search of budget-friendly clothing. After exploring how to set and prioritize a clothing budget, where to shop for affordable attire, and some handy tips to keep in mind when purchasing, it seems like we're ready to step out in style without breaking the bank.
Just remember: quality over quantity is usually your best bet. Go for basics in neutral colors that can be easily mixed and matched with wacky or colorful accessories. Of course, you don't have to deny yourself if something really catches your eye – just make sure it fits into your budget too!
All in all, now you know all the tricks and tips to find cute clothes, while still being able to afford the other necessities in life. So go forth and look fly without sacrificing all your hard-earned $$$!
FAQs on Women's Clothing Deals
Where can I find cheapest clothes online?
When it comes to finding affordable clothing for women, there are a few things you should look out for. First and foremost, be sure to check online for deals. Many retailers offer discounts on certain items, and you can often find bargain prices by searching around. You might also want to take advantage of seasonal sales and coupon codes. Sometimes you can even find great deals on name-brand clothes.
Another great way to find cheap clothing for women is to shop at thrift stores and consignment shops. These places often have a wide selection of items at discounted prices. You can also find unique items that may not be available in regular stores.
Finally, don't forget to take advantage of clearance sales. Many retailers have end-of-season sales, and they often offer deep discounts on clothing. Additionally, look for online retailers that offer free shipping. This can often help bring down the cost of clothing, even more.
With a little bit of effort and a bit of research, you can easily find affordable clothing for women that fits your style and budget. Good luck!
How to buy clothes when broke?
If you're a woman and you're broke, finding affordable clothes can feel impossible. But it doesn't have to be! With a little bit of creativity and resourcefulness, you can find great deals and maintain your style even on a small budget. Here are a few tips to get you started.
First things first: look for second-hand. You can find deals on gently used clothing at thrift stores, consignment shops, and online second-hand marketplaces like Poshmark or eBay. These are great places to find unique and stylish items at unbeatable prices.
Also, don't forget about deals from big box stores like Walmart and Target. You can often find sales and clearance items that are both fashion-forward and budget-friendly. Don't be afraid to mix and match high-end pieces with budget items. You can create a really stylish look this way!
Finally, take advantage of online deals and discounts. Sign up for mailing lists and follow your favourite brands on social media. You'll be the first to know when they are running special sales or releasing new collections.
When you combine all four of these tips, you'll be able to find great clothes – even when you're broke! So don't worry, there's plenty of options out there. Just keep your eyes peeled for killer deals and you'll be looking stylish in no time.
How do I find clothes I really like?
One of the best ways to find affordable clothing for women is to shop around. You can check thrift stores, consignment shops, and online retailers for deals. I also recommend checking out local retailers and fashion sales, which often offer discounted items. Additionally, if you're willing to put in your time, you can scour flea markets, yard sales, and clearance racks for great bargains. With these options, you'll be able to find stylish options without breaking the bank.
Another approach to finding affordable clothing is to buy quality, classic pieces that will stand the test of time. Opt for classic cuts and timeless pieces, rather than buying trendy items that will only last one season. Choose fabrics that are durable and well-made, so you can enjoy them for many years. Also, look for items made from natural fabrics, such as wool, cotton, and silk, as they tend to be more resilient than synthetic fabrics.
Finally, if you want to save money on clothing, I recommend you purchase items that can be used as staples in your wardrobe. Look for pieces such as skinny jeans, blazers, blouses, and t-shirts that can be mixed and matched. This way, you can create a variety of look with a few simple pieces.