Finding the Perfect Yoga Bra for Your Studio
Introducing the Ultimate Guide to Choosing the Perfect Yoga Bra
Hey there, yogis! Are you tired of constantly tugging and adjusting your bra during your practice? Do you find yourself distracted by discomfort and lack of support? Well, fear not! In this comprehensive guide, I'll be introducing you to the world of yoga bras and why they're a game-changer for your practice.
First things first, let's define what a yoga bra actually is. A yoga bra is a specialized sports bra designed to provide optimal support and comfort for different yoga poses and movements. It's different from your everyday bra because it's made from high-quality fabrics that are sweat-wicking, breathable, and supportive.
So, why is it important to wear the right yoga bra? The right sports bra can make or break your entire practice. Wearing an ill-fitting bra or one that doesn't provide enough support can lead to discomfort, chafing, and distraction, making it difficult to focus on your practice. On the other hand, a good yoga bra not only provides support and comfort, but it can also enhance your practice by allowing for a full range of motion, better posture, and improved confidence!
Why You Need to Wear a Yoga Bra
As someone who practices yoga regularly, I know how important it is to wear the right gear. That includes a good yoga bra. While you might be tempted to just wear your regular sports bra or go without one altogether, let me tell you why you shouldn't.
Compression & Support
First and foremost, a good yoga bra will provide the compression and support you need during your practice. Whether you're holding downward dog or flowing through vinyasa, you want to feel secure and comfortable in your movements. A yoga bra with the right amount of compression can help keep you feeling supported and prevent discomfort or pain caused by bouncing or movement.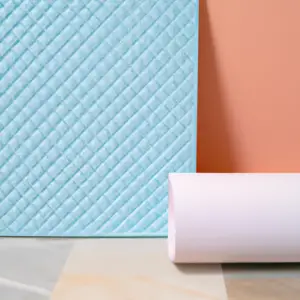 Another benefit of wearing a yoga bra is the comfort and breathability it provides. A good yoga bra will be made with high-quality, moisture-wicking fabric that helps keep you cool and dry even during the most intense of yoga sessions. No one wants to feel sweaty and uncomfortable during their practice, and a good yoga bra can help prevent that.
Types of Yoga Bras
There are a few different types of yoga bras to choose from, including cross-back bras, racerback bras, and sports bras. Each has its own benefits and drawbacks, so it's important to choose the right one for your body and your practice.
What to Look for in a Yoga Bra
When choosing a yoga bra, it's important to consider the fit and the fabric and construction. You want to choose a bra that fits snugly but isn't too tight, and is made with breathable, moisture-wicking fabric that will keep you comfortable throughout your practice.
Overall, wearing the right yoga bra can make a big difference in your practice. It can help you feel more comfortable and supported, and prevent discomfort or pain. So don't skimp on this important piece of yoga gear!
Types of Yoga Bras
Now it's time to talk about the different types of yoga bras. There are three main types of yoga bras: cross-back bras, racerback bras, and sports bras. Each type has its unique features, so it's undoubtedly essential to choose the one that fits your needs.
Cross-Back Bras
Cross-back bras are an excellent option for those who want to support their chest during yoga sessions. These bras come with crisscross straps at the back, which provide additional support and help keep the bra in place. They come in various styles, from minimalistic to more detailed and fashionable designs. This style of bra is great for those who have a fuller bust and need more support.
Racerback Bras
Racerback bras are another option that is popular in the yoga world. The straps on racerback bras join at the back in a V-shape. They're more minimalist than cross-back bras and can be more comfortable to wear for individuals with narrower shoulders. Racerback bras provide medium support for those who don't need the fullest coverage or compression.
Sports Bras
Sports bras are a popular, go-to option for many yogis. These bras come in various shapes and sizes, and some resemble crop tops. Sports bras provide maximum support with high coverage and compression. They're a great option for those who have an intense yoga routine. Specifically, they're best suited for those with a smaller bust and light-intensity yoga.
When selecting the best type of yoga bra for your needs, it's essential to keep in mind your body size, chest, and personal preferences. It's also crucial to be aware of how much support, compression, and coverage you need for a particular yoga practice. If you're unsure of what to choose, read reviews, seek advice from experts or more experienced yogis, and try different bras until you find your ideal match.
If you're looking to equip your home yoga studio, check out this amazing guide that will help you transform your space into a zen, serene space for your yoga practice!
What to Look for in a Yoga Bra (and not for others)
So, you've decided to invest in a yoga bra – good for you! But, before you go out and buy the first one you see, there are some things you should consider to ensure you get a bra that not only fits well but also performs well during your yoga practice. Here are some expert tips on what to look for in a yoga bra:
Fit
The first thing to consider when buying a yoga bra is the fit. It should be snug enough to provide support, but not so tight that it restricts your movement. Make sure to try on the bra and do some stretches to see how it feels. Also, consider the straps – they should stay in place and not dig into your shoulders or fall off.
Fabric & Construction
The fabric and construction of the bra are important as well. Look for a bra that is made from a moisture-wicking material that will keep you dry during your practice. The construction should be seamless to avoid discomfort or irritation. If possible, look for a bra with removable padding so that you can customize your level of support and coverage.
Avoid These Features
There are a few things to avoid when buying a yoga bra. Stay away from bras with underwire – they can be uncomfortable and restrict your movement. Similarly, avoid bras with clasps or hooks as they can dig into your skin or come undone during your practice. Lastly, avoid bras with too much embellishment, as they can be distracting or uncomfortable during certain poses.
By keeping these tips in mind, you'll be sure to find a yoga bra that fits well, performs well, and supports you during your yoga practice.
Reviews of Top Yoga Bras
Alright ladies, it's time to get down to business and talk about the best yoga bras out there. As someone who is super picky about their yoga gear, I have tried and tested so many different types of yoga bras. Trust me when I say that the right yoga bra can make or break your practice. So without further ado, let me share my favorite picks.
Review of Product 1:
First up, we have the XYZ brand sports bra. This bra is so comfortable and breathable, it almost feels like you are wearing nothing at all. But don't be fooled by the lightness of the fabric – it provides the perfect amount of support and compression to keep everything in place during even the most intense yoga sessions. Plus, the cute and colorful designs make me excited to put this bra on every time.
Review of Product 2:
If you're looking for something with a little more coverage but still want to feel free and supported, check out the ABC brand cross-back bra. The unique criss-cross design on the back not only looks stylish, but also helps distribute weight evenly across your shoulders and back. The fabric is soft and stretchy, but also durable enough to withstand a lot of wear and tear. I also appreciate the adjustable straps, allowing me to customize the fit to my liking.
Review of Product 3:
Last but not least, the DEF brand racerback bra is a staple in my yoga wardrobe. This bra is made with high-quality materials that wick away sweat and keep you feeling fresh and dry. The racerback design also provides great support and stability, while still allowing for a full range of motion. I have had this bra for over a year and it still looks and feels brand new.
Overall, investing in a good quality yoga bra is definitely worth it. Not only will it make your practice more comfortable and enjoyable, but it can also prevent unnecessary pain or injury caused by lack of support. Remember to pay attention to fit and fabric when choosing your perfect bra, and don't be afraid to try out different types until you find the one that works best for you. Namaste!
Wrapping It Up: My Final Thoughts on Finding the Perfect Yoga Bra
Well, folks, it's time to say goodbye. But before I go, let me wrap up some key points to remember when searching for the perfect yoga bra.
First and foremost, make sure to understand the importance of a good yoga bra. It's not just about looking cute, but also about feeling comfortable, supported, and confident during your practice.
Next, consider the benefits of wearing a yoga bra, such as compression, support, comfort, and breathability. Each of these features can make a huge difference in how you feel and perform on the mat.
When it comes to types of yoga bras, there are various options to explore, each with its own pros and cons. Cross-back bras, racerback bras, and sports bras are just a few common choices to consider.
But the most important factor when choosing a yoga bra is finding the right fit and fabric construction. Pay close attention to sizes, measurements, and even try on different styles to see what works best for your unique body type.
Finally, I recommend checking out some trusted reviews of top yoga bras. Don't just trust the brand's promises or photoshoots, but hear from people who have actually worn and lived in the product for an extended period.
With all these tips in mind, I believe you will find the perfect yoga bra to match your style, comfort level, and personal preferences. May your yoga practice be full of peace, joy, and self-love, all while wearing the perfect bra for you!